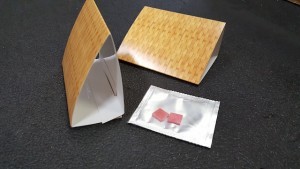 PRODUCT DESCRIPTION: A long, rectangular shaped "box" trap which has a "gluey" interior. The glue has a special pheromone attractant which attracts adult male Indian Meal Moths, Mediterranean Flour Moths and more. Once inside, they'll get stuck on the glue.
WHERE TO USE:   Anywhere but typically the pantry, closets, garages and limited parts of the home. Can be used throughout any home, commercial processing plant, warehouse or storage building.
RELATED PRODUCT:       MEAL MOTH SUPPRESSOR TRAPS
RATE OF APPLICATION:   One trap per cabinet and for most pantries, one trap is enough. Be sure to replace them as they fill or dry out (traps should be replaced in 3 months unless the glue gets dry sooner or if they fill up). If you've been setting out traps for 6 months or more and still have activity, you will have to step up to the Suppressing Moth Traps which will trap both Male and Females and remove this style from the home.
** BE AWARE  – THESE WILL NOT CONTROL AN ACTIVE INFESTATION AND ARE SO STRONG, THEY CAN LURE MOTHS IN FROM MILES AWAY **
For this reason its not recommended to use them in your home as they can often times give a "false positive" by making you "think" you have a problem inside but in reality, the traps are only luring them in from afar.
Watch this "short video" for a quick summary on why using these in the home is generally not recommended although they're good for commercial establishments looking to "monitor" warehouses and other storage buildings.
$12.00 ea  (2 Pk)(826328)(3+ $10.00 ea)(FREE STANDARD SHIPPING)
Order online and save 5%



$95.00   CS  (12  2/PKS)(826329)(FREE STANDARD SHIPPING)
Order online and save 5%


INTERNATIONAL CUSTOMERS ORDER HERE
Supporting Video
[tubepress mode="playlist" playlistValue="F0AF955605210C22″]