Hello, I would like to purchase a high-end mosquito fogger. I am inquiring about solutions to use – do you sell pyrethrum or permethrin? How much please and how long would they last? Tx, Jill
If you review our MOSQUITO CONTROL article, you'll learn we have many types of foggers and several compounds that can be used to fog including PYRETHRIN and PERMETHRIN. Here is a brief summary of some options; our online article covers all of this in much greater detail and well worth reviewing if you want more product and treatment details (a link to that is down below too).
For small jobs, an electric MINI FOGGER may be strong enough. It can handle up to 2500 sq/ft no problem. It uses a 32 oz tank for solution and will propel the fog around 15-25 feet.
For small to medium yards, like 1/2-1 acre or less, a slightly larger unit like the FM6309 is better suited. It uses a full gallon holding tank and will propel the fog 25-30+ feet and can pump a full gallon in around 12 minutes.
For anything an acre or larger (which is what I have and I use this unit), the gas powered backpack MIST BLOWER is a great choice. It will blow the mist 50+ feet and runs on gas making it completely independent of cords. It uses a 3.5 gallon holding tank and is plenty powerful for several acres.
Lastly, if you have 3 plus acres to treat, our GOLDEN EAGLE thermal fogger will be the best option. This one features an electric start, a 1.1 gallon tank and portability. You will need to use our DEODORIZED OIL to create your spray but this will ensure the unit runs smooth. And all the listed chemicals below can be mixed with water or oil.
As for what to use in a fogger? All of the above units will accept water based products except the thermal fogger which needs oil based material. And since oil based materials cost more, this is something that could factor into your decision. Again, our article explains the differences more in detail but basically the water based machines are more versatile using 2-3 gallons to treat the average acre. Thermal foggers will use a lot less material to treat the same area so even though you must buy deodorized oil separately, it will effectively pay for itself over time since you'll be using less material when treating. For multiple acres, this can add up because not only will it take less chemical to treat the same area, it will also take a lot less time.
So for all of these units, we recommend 1 oz of 6% PYRETHRIN per gallon. This won't provide residual but it does provide a fast knockdown of anything flying around.
For residual, add 1 oz of TENGARD PERMETHRIN. Odorless and long lasting, most applications will last 2 or more weeks whereas the Pyrethrin alone will be gone in an hour or less.
Lastly, to help reduce the amount of treating you'll need to, add some NYLAR to the tank. Add 1/2 oz of this per gallon along with the Pyrethrin and Permethrin. Nylar will not affect adult pests but it will thwart hatching young and by doing so, end the life cycle. Since treatments with Nylar last so much longer compared to both Pyrethrin and Permethrin, using it in the tank mix can help extend your protection by weeks.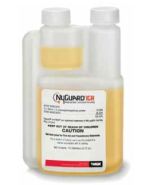 Now if you decide to get a thermal fogger, which is really only needed if you are treating a couple of acres or more, you'll also need DEODORIZED OIL for all solutions.
Worth mentioning is ESSENTRIA IC. This concentrate uses food grade actives making it okay to apply over water like ponds, rivers, lakes or the ocean. It will actually work just as well but you will need to use it every 10-14 days since it won't last as long as the mixed Permethrin and Nylar.
For more details on all these products, refer to our Mosquito Control article here:
Mosquito Control: https://bugspray.com/articles98/mosquito.html
Give us a call if you need more help. Our toll free is 1-800-877-7290 and we're open 9:00 AM to 4:00 PM Mon-Thur; 9:00 AM to 4:00 PM Friday and 9:00 AM to 1:00 PM Saturday, Eastern Standard Time.
Jonathan
Customer Care
www.bugspray.com
PS: Please show your support for our business by purchasing the items we recommend from the links provided. Remember, this is the only way we can stay around and be here to answer your questions and keep our web site up and running. Thanks for your business!