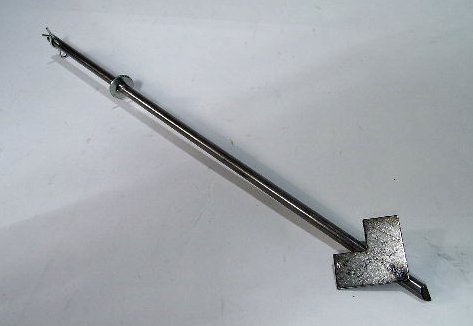 PRODUCT DESCRIPTION: Metal stakes which are pushed into the ground and then used to secure rat bait stations.
HOW TO ATTACH TO STATION:  You'll need to drill a hole through the bottom of the bait station and then first, drive the stake into the ground all the way down to the "stop washer" near the top of the stake. Now place the station over the top of the stake making sure the tip of the rod slides through the hole you've drilled. Once over the hole, place the station down and then secure the rod inside the station but inserting the cotter pin at the very tip.
WHERE TO USE IT: In the ground.
WORKS WITH THE FOLLOWING STATIONS:       RAT TAMPERPROOF        RAT TAMPERPROOF WITH WINDOW
RELATED PRODUCTS:        TAMPERPROOF RAT BAIT STATIONS        TAMPERPROOF MOUSE BAIT STATIONS         HERCULES PUTTY        TOP LOADING BAIT STATION         CABLE TIE FOR TOP LOADING STATION        RAT BAIT STATION        MOUSE BAIT STATION        PRE BAITED MOUSE STATION        PRE BAITED RAT STATION 
BAIT OPTIONS:       RAT MOUSE BAIT BLOCKS        RAT MOUSE BAIT PLACE PACKS


$6.00   (287883)(3+ at $5.00 ea)
Order online and save 5%






INTERNATIONAL CUSTOMERS ORDER HERE
Supporting Video
[tubepress mode="playlist" playlistValue="47829A895D9317AD"]