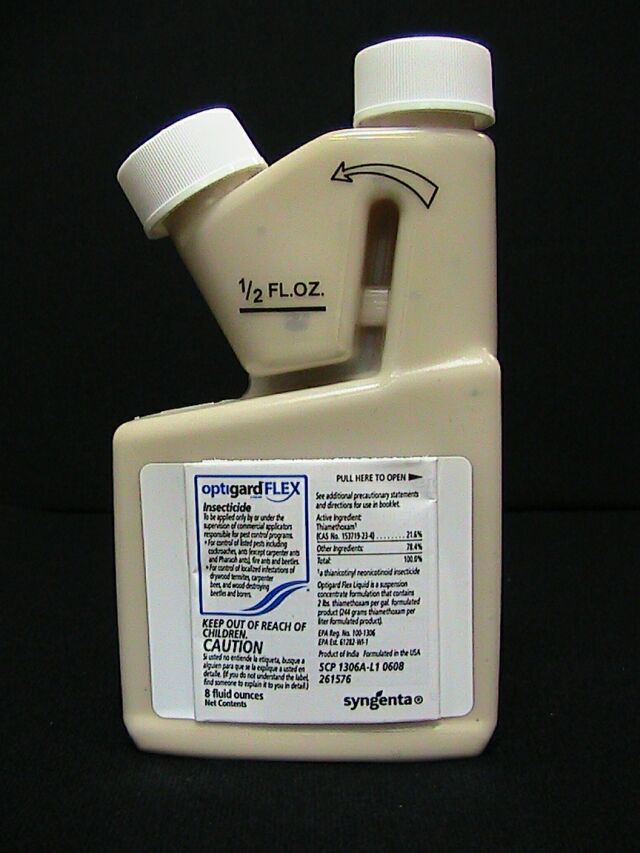 PRODUCT DESCRIPTION:     Optigard flex is a non-repellent insecticide that is active against insects by both contact and ingestion. It is particularly effective against social insects such as ants but can be used to control a variety of nuisance insect pests such as cockroaches, beetles, bees, earwigs, hornets, boxelder bugs, fire ants, wasps, etc.
Optigard Flex may be applied as a perimeter band, as a spot spray, as a mound drench, and to voids to control a wide range of insects. It may also be applied to trees and shrubs to control honeydew producing insects that ants use as a primary food source. Optigard Flex offers true flexibility in treating ants and nuisance insects both in and around structures because its odorless and undetectable by the target insect.
Once treatments are in place, insects will travel over the area and unknowingly pick up the active. Once its on them, they'll typically ingest some as well as share it with other members in their nest. In 1-2 days, most all of the nest will have some of the active on it. And when this happens, it's too late for the pest.
By the 3-4 day, the active will turn on and when it does, any member of the target pest exposed will die. Typically this will take another 2-4 days but within 7-14 days, any nest will be dead.
To insure good coverage for large populations with only 1-2 entry ways, be sure to spray their holes daily. Do this in the evening when they're all present inside. This way the next day the foraging workers will pick up the active and share it with other members of the colony in the coming days.
WHERE TO USE IT:    Versatile formulation that can be applied anywhere since its odorless. So both inside or outside the home; and as a liquid or foam.  Inside only to be used as crack and crevice or void treatment.  Not for surface application inside living spaces.  Outside; use it on any kind insect mound, entry points, eaves and attic vents, along sidewalks, in mulch, on landscape and ornamental plants too. Termite Monitoring Stations can also be treated… See label for complete list.
RATE OF APPLICATION: .27 to .54 Fluid ounces per gallon.  Use 2 gallons per 1,000 sq ft of Application area.
RELATED PRODUCTS:          PUMP SPRAYER
PRODUCT DOCUMENTS:       SPECIMEN LABEL       MSDS SHEET
$65.00   (455631) 8 oz (FREE STANDARD SHIPPING)(N/A TO NY)
Order online and save 5%


Supporting Video