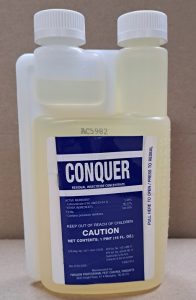 PRODUCT DESCRIPTION:      Odorless concentrate which mixes with water. Provides 1-2 month residual protection.
TARGET PESTS:       Although it is labeled for many pests, Conquer works well for crickets, digger bees, digger wasps, fleas and ticks.
WHERE TO USE IT: Use it outside to stop crickets from entering and inside for quick control of existing populations. Can also be used inside for crawl space and basement treatments.
RATE OF APPLICATION: 1-2 ounces per gallon of water. The pint will make 8-16 gallons of finished product when used in a pump sprayer.
For lawn and turf applications, a pint can treat up to an acre. Add 2.0 oz to our HOSE END SPRAYER and then fill it up half way. Hook it to your hose and spray the mixture out over 5,000 sq/ft once a month to stop fleas, ticks, mosquitoes and more.
RELATED PRODUCTS:          PUMP SPRAYER        20 GALLON HOSE END SPRAYER
PRODUCT DOCUMENTS:       SPECIMEN LABEL       MSDS SHEET
$60.00   (455215) 16 oz
Order online and save 5%



$90.00   (455216) 32 oz
Order online and save 5%


Supporting Video