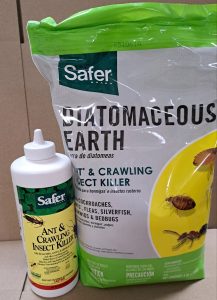 PRODUCT DESCRIPTION: Made from the finely ground fossils of prehistoric fresh water diatoms. Diatomaceous Earth kills common household and garden pests like roaches, ants, fleas, beetles and other listed insects. A long-lasting control, it sprinkles into cracks and crevices where bugs hide.
WHERE TO USE IT:  Where pests are found or are hiding.  Along baseboards, carpet edges, under carpeting, furniture, in closets and shelving where insects are seen or suspected.
RATE OF APPLICATION: Lightly coat areas to be treated.
PRODUCT DOCUMENTS:       SPECIMEN LABEL       MSDS SHEET
$8.00   (452839)  7 oz
Order online and save 5%



$15.00   (452828) 4 lbs
Order online and save 5%


Supporting Video