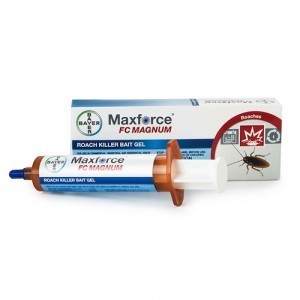 PRODUCT DESCRIPTION: New Maxforce® FC Magnum is the most powerful cockroach bait gel ever. Whether cockroaches eat it, touch it or share it, Maxforce FC Magnum kills more roaches faster than any other single product. There's no advance preparation required and no odor.  Maxforce Roach Killer Bait Gels has USDA authorization for use in federally inspected meat and poultry plants. What's more, you can use Maxforce Gel in residential food processing areas without covering food preparation surfaces during treatment. It's also fine to use in occupied rooms of hospitals, nursing homes and extended care facilities.
WHERE TO USE IT: It is labeled for inside and outside. Very good product for use in cabinets and places where it is hard to treat with traditional sprays. Small dabs are made where roaches are being seen. They will find the Maxforce because it is formulated with attractants they love. Once they find it, they will eat it and die. In most cases, treatment can be done without having to remove everything from your cabinets or having to kick everyone out of the home.
RATE OF APPLICATION: This varies with the level of infestation. Badly infested homes may take two or more tubes to get complete control. Ordinarily, one tube will last 6 to 12 months.
PRODUCT DOCUMENTS:       SPECIMEN LABEL       MSDS SHEET


RELATED PRODUCTS: BLUE BAIT GUN     ADVION ROACH GEL     MAXFORCE ANT GEL       MAXFORCE REGULAR ROACH GEL      OPTIGARD ANT GEL    MAXFORCE ROACH BAIT STATIONS          REFILLABLE BAIT STATIONS 6 PACK


$30.00   (153358)(3+ $25.00 ea)
Order online and save 5%


INTERNATIONAL CUSTOMERS ORDER HERE
Supporting Video
 THIS VIDEO SHOWS ANT GEL BUT THE ROACH GEL IS USED THE SAME WAY!