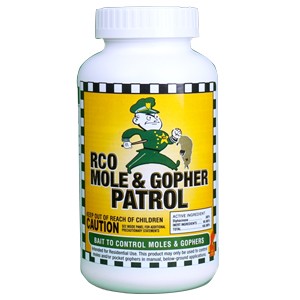 PRODUCT DESCRIPTION: Bait for moles which uses grubs and worms as attractants – primary food for moles and tastes which they love. The smell of the bait will get the always active moles to consume some. Once a lethal dose has been consumed they will die in 2-3 days.
TARGET PESTS: Moles, gophers and other small rodents.
WHERE TO USE IT:    Every 8-10 feet down tunnels which are thought to be active. This is usually as close to the main den that you can make placements.
RATE OF APPLICATION:     2 oz per tunnel; retreat every 2 weeks if new tunnels or holes appear.


BAIT APPLICATOR TOOL (gets bait deep into burrows):      SNAKE BAITER


OTHER BAITS:               LIQUATOX LIQUID BAIT        GOPHER BAIT        POISON PEANUTS        PRE-BAITED TAMPER RESISTANT MOUSE BAIT STATION        PRE-BAITED TAMPER RESISTANT RAT BAIT STATION        MOLE WORMS       MOLE GEL BAIT


PRODUCT DOCUMENTS:       LABEL   MSDS SHEET


$30.00   (151156) 1 lb  (FREE STANDARD SHIPPING)
Order online and save 5%



$70.00   (151159) 4 lbs  (FREE STANDARD SHIPPING)
Order online and save 5%