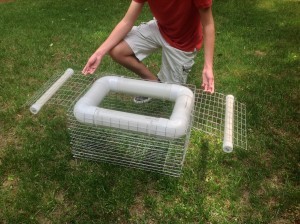 TRAP DESCRIPTION:     This trap measures 20 inches wide by 26 inches long by 13 inches deep and works by taking advantage of the desire turtles have to sun themselves.
Turtles enter by climbing up the floating ramps which will be partially submerged below the waters surface. Once they reach the top of the PVC, some will slip into the holding cage since it's hard for them to maintain their balance on the round pvc pipe. Those that do stay balanced will most likely choose the inside of the trap to re-enter the water when they're done sunning. This happens because they like to dive and with the entry ramp on one side, they have no choice but to dive into the holding cage.
Another reason this happens is because they can only dive "forward". This pattern occurs because as they climb onto the PVC, they're moving forward toward the inside of the holding cage. And once done sunning themselves,  they'll continue forward which ultimately leads to the inside of the cage.
WHERE TO USE IT:    Any body of water where turtles are present and like to sun themselves. Since it does not require any bait, this trap is best suited for species of turtles that like to openly sun themselves. It is generally a good idea to secure the trap with a tether (light twine or rope) so the trap can be anchored to the shore, dock, tree, etc. This insures it won't float away and that you can easily retrieve it.
***  BE SURE TO LEAVE AT LEAST ONE TURTLE IN THE HOLDING CAGE AS THIS WILL GET MORE INSIDE FASTER  ***
ADDITIONAL NOTES:   This trap requires construction. To save on shipping costs, the cage is folded up and will have to be secured prior to use. All the pieces needed to secure the trap are included which are mainly cable ties. You'll need the included cable ties to first form the holding the cage (each side uses 2-3 ties) and then to secure the PVC piping to the cage (this requires 4 ties). The construction is easy to do and should take 15  minutes or less. Directions are included.
RATE OF APPLICATION: Like most live traps, the more installed the faster you will be able to trap out target animals.


RELATED TRAPS:          SMALL MESH HOOP TRAP           LARGE MESH HOOP TRAP          SINGLE CATCH TURTLE TRAP          MULTIPLE CATCH TURTLE TRAP


$150.00   (822437)
Order online and save 5%