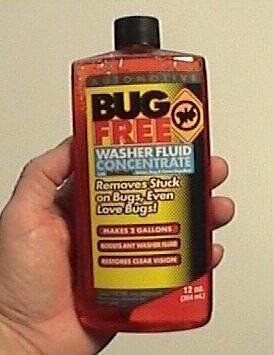 PRODUCT DESCRIPTION: Wiper Fluid Concentrate which is added to water and used to create Washer fluid. It is formulated so that road grime and insects like lovebugs will be wiped away without being smeared all over the glass which common, average, everyday wiper fluid will do.
WHERE TO USE IT: Add to the tank which holds the washer fluid for windshields on autos or other vehicles. From there it will be pumped out onto the glass when desired.
QUICK REVIEW VIDEO:
RATE OF APPLICATION: Use half the jar or 6 oz per gallon of water to create the ready to use form. Each jar is enough to create 2 gallons. In extremely dirty or buggy regions, using the whole 12 ounces per gallon of water may be advised.
$15.00   (775130)(3+  $12.00 ea)(FREE SHIPPING)
Order online and save 5%