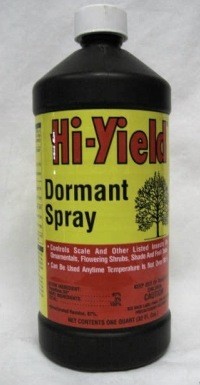 PRODUCT DESCRIPTION: Dormant spray is very effective in controlling a wide range of Scale, Mites, Fruit Tree Leaf Rollers, Bagworms, Pear Psylla, Fall Armyworms and Whiteflies on Ornamental, Shrubs, Fruit Trees and Shade Trees such as: Tea Scale on Camellias, Oleander Scale on Oleanders, Juniper Scale on Junipers, Azalea Scale on Azaleas, White Peach Scale on Privet, Scale on Citrus Trees, Rose Scale on Roses and Magnolia Scale on Magnolias.
Generally used in the winter months, Dormant Spray is a good choice for use on plants and trees with a recurring history of insect problems.
Dormant Oil may be mixed with other Insecticides and with Fungicides except those containing Sulphur.  Dormant Oil may cause plant injury to House Plants such as Ivy, Ferns, etc.

WHERE TO USE IT: Ornamental, Flowering Shrubs, Shade and Fruit Trees.
RATE OF APPLICATION: Mix 1.5 to 3oz in one gallon of water.  Spray foliage thoroughly.  Do not apply when temperatures are above 90 Degrees F.  Spray in the afternoon or early evening.
PRODUCT DOCUMENTS:       SPECIMEN LABEL        MSDS SHEET
$15.00   (455262) 16 oz (3+ for $8.00 ea.)
Order online and save 5%



$25.00   (455263) 32 oz
Order online and save 5%



$60.00   (455264) 128 oz
Order online and save 5%