Cicada killers are the among the largest in the wasp family. Known as sphecius speciosus to entomologists, cicada killers get active in the summer and will frighten most anyone they confront. Cicada killers are most black with some yellow stripes and grow to be over two inches long.
In case this is not what you're looking for, we also have in depth articles on:              DIGGER WASPS          EUROPEAN HORNETS          HORNTAIL WASPS          MUD DAUBERS          WASPS          YELLOW JACKETS
CICADA KILLER NESTS *
Cicada killers will dig their nests throughout the yard, mulch and sand areas and will generally frighten anyone who sees them. Like most wasps, they can sting. They use their stinger to sedate and paralyze cicada's. Cicada killers will hunt cicadas during the summer months when populations are active. They will find a cicada, sting it and bring it back to it's nest. This short video shows a female Cicada Killer in action.
Once the cicada has been pumped full of toxins and rendered helpless, it will be brought back to the burrow where the paralyzed cicada will serve as food for the young cicada killers. Most egg burrows will have one or two cicadas for every egg which is laid. Nests usually only have one egg chamber, but when populations are high, cicada killers will dig extra chambers or extra nests to accommodate reproduction capabilities. This will vary from year to year as the cicada population varies. Old folklore states that cicadas are active every 7 or 12 years, but in fact some will emerge every year – depending on the region. Cicada killer populations will vary depending on the hatch or release of cicadas. In general, the more cicadas, the more cicada killers.
CICADA KILLERS AROUND THE HOME *
Cicada killers are a nuisance around the home because the dig large nests which are unsightly. These nests are sometimes thought to be from an animal because they are so big.
Cicada Killers will spend their days foraging and if you watch the nest, you may catch them entering or leaving. Since they are so large, most people are petrified of them. In fact, cicada killers are generally not aggressive, but don't irritate them. Stay clear of their nests and be sure to keep children away from them as well. Since the nest will not go away on it's own and will probably be active from year to year, it is best to treat them as soon as you see it developing. There are several ways to do the treatment and the method you choose largely depends on how comfortable you feel doing the work as well as the cost factor.
CICADA KILLER TREATMENTS *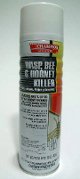 If you have one or two nests and are only seeing one or two adults, control should be easy. Use WASP HORNET FREEZE for a quick knockdown of adults as they are entering or leaving a nest. Wasp Hornet Freeze uses a unique combination of actives which work well on wasps even as large as cicada killers. Be careful of less expensive over-the-counter aerosols. Many such formulations are not strong enough for this type of wasp. Once the adult has been sprayed and is dead, watch the nest for a few days. If no activity is noted, you have probably solved the problem. If you see new activity the following year, you will need to go to the second treatment option to insure they don't come back.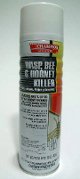 Wasp Hornet Freeze: http://www.bugspraycart.com/insecticide/aerosol/hornet-killer-15-oz
TREATING CICADA KILLER NESTS WITH LIQUIDS *
The second treatment option is to use liquid concentrates. You may want to employ this method if you are afraid of treating with Wasp Freeze because you don't want to get close to the nest or if you have several nests that need to be treated. Liquid treatments should be done at night so there is little risk of conflict with adults. Liquid treatments are cheaper to do than using Wasp Freeze and will enable you to treat large infestations economically.
More importantly, liquid treatments will provide some residual in the hole so you may be able to kill newly hatched or developing larva. This could prove important when dealing with chronic infestations.
BEST CICADA KILLER SPRAY *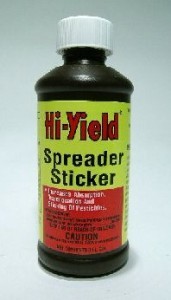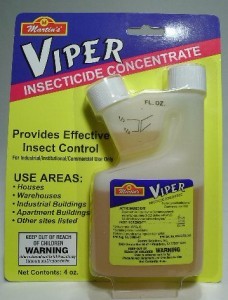 Use CYPERMETHRIN and SPREADER STICKER mixed together and soak their nests. Cypermethrin will provide a residual for a month or more. The Spreader Sticker allows the treatment to penetrate the adults quicker which kills them before they know what is happening. This eliminates the possibility of being stung. Since nests can be large with more than one egg chamber, you should treat each hole by applying 1/2 to 1 gallon of mixed solution. This insures proper coverage and distribution throughout the chambers.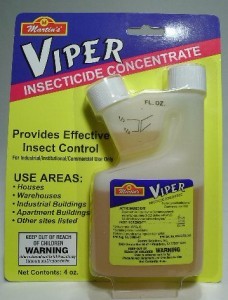 Cypermethrin: http://www.bugspraycart.com/insecticide/liquid/viper-cypermethrin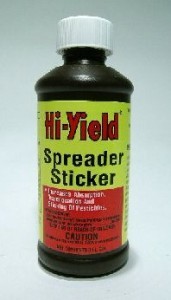 Spreader Sticker: http://www.bugspraycart.com/insecticide/additive/spreader-sticker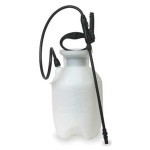 Since most active areas have several nests, liquid treatments are more economical than using any type of Wasp Freeze. Use a PUMP SPRAYER with the tip set to pin stream and spray into their hole non stop till you know you've applied at least 1/2 gallon per hole.

Eliminator Pump Sprayer: http://www.bugspraycart.com/equipment/sprayers/eliminator-gallon-sprayer

If you are unsure where the nest is located, broadcast the liquid treatment over the area using a HOSE END SPRAYER. You will first need to see where they are most active. Next, try to narrow the area down to the smallest section of turf that you can. You can do this by watching where you see them enter or leave mulch and plant areas. Cicada killers will have specific flight paths they will use to enter and fly around nests. Unfortunately, the actual hole is sometimes masked and covered and hard to see.

Hose End Sprayer:  http://www.bugspraycart.com/equipment/sprayers/gilmour-20g-390
Using the Cypermethrin listed above, you will need to broadcast it over the 100 sq/ft where you think they are nesting. You'll need to saturate the ground when using this technique so expect to use 2-3 gallons per 100 sq/ft. This method is more of a shotgun approach and will not kill adults immediately. It usually takes several days for them to die, but they will be exposed to small amounts of the cypermethrin over time as they travel in and out of their nest which will eventually kill them. TREAT DAILY TILL ALL ACTIVITY STOPS.
CICADA KILLER DUST TREATMENTS *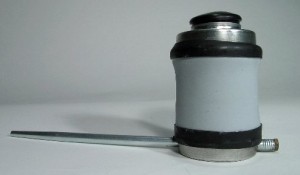 One last treatment option that's highly effective is to dust nests directly using DRIONE DUST and a HAND DUSTER. This method is fast acting and only takes a few seconds to do. Treat at night when all the nest occupants are sure to be back at their nest. Approach nests quietly (bring a flashlight if you cannot see the nest clearly) and make sure you know how many holes there are so you're prepared to treat them all in one visit.

Drione:  http://www.bugspraycart.com/insecticide/dust/drione-dust

Hand Duster: http://www.bugspraycart.com/equipment/dusters/crusader
Each hole should receive 1-2 heavy puffs of Drione so you'll only be able to treat 4-8 holes per filling of the Hand Duster. Drione works quickly and it "floats" well inside their nest meaning it will surely get down deep and penetrate every area insuring all the next occupants will die. And once the Drione covers them, they'll be dead within the hour. The following video shows how to properly dust a cicada killer nest.


The next day you should watch the treated nests from afar and if you spy any that still have activity, plan on treating them again later that evening. Repeat until all nest activity stops.
One added benefit of using Drione is that the dust will readily absorb cicada killer odors and pheromones. This is important for preventing new nests. Since we know foraging cicada killers are always looking for good nest locations, once your yard has 3-5 nests in the ground it will be more likely to attract new adults searching for a good location to tunnel. This happens because existing nests release smells (undetectable by humans) which other cicada killers can detect from long distances away. And once they "smell" your yard as being good for nest building, they'll take advantage. This is one of the main reasons nests tend to keep appearing in the same area year after year.
But dusting with Drione can effectively diffuse these scents which will prevent new cicada killers from finding your yard. So for long term protection, dusting with Drione has its advantages.
HOW TO PREVENT CICADA KILLER NESTS *
Remember that cicada killers late in the season will have already laid eggs and it is highly likely that you will have some activity the following year if you don't treat thoroughly in the summer and fall once activity is discovered. This is because it's hard to reach the eggs that are buried deep in the ground and without being able to directly treat them, chances are high the eggs will be able to hatch safely and feed without a problem since they'll have their required food.
This means the following spring, as soon as it starts to warm, the pupae will start hatching and the adults will begin to emerge. This process can take a month or two, well before you actually see any, and in fact is a good time to launch an attack and get them before the summer starts. Additionally, once a good nesting area is located, adults will try to use such ground from year to year due to a lingering "scent" or "pheromones" in the area. This means any that emerge in your neighborhood will naturally be drawn to your nests looking for mates, good ground for new nests, etc. For this reason it's important to treat previous nest sites early in the spring, at least once a month, with liquid applications of Cypermethrin.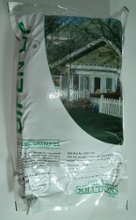 Now if you believe you have succeeded in killing off previous nests but want to make sure no new nests form, this can be accomplished by treating early in year and then throughout the warm season for your region. So if apply BIFEN GRANULES and CYONARA RTS every 2 months to your yard, gardens, flower beds and island areas around the home, you can stop new nests from forming all year. Basically this combination will put in place a protective barrier so any foraging cicada killers that might consider using you yard for new nests will move away.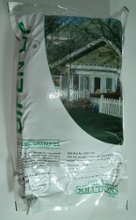 Bifen Granules:  http://www.bugspraycart.com/insecticide/granule/bifenthrin-g-25-lb

Cyonara RTS:  http://www.bugspraycart.com/insecticide/liquid/cyonara-32-oz-rts
By treating known nest sites early before summer, you'll have a good chance of killing the hatching adults before they get above ground and get active for the summer. This strategy works because repeatedly treating will enable the Bifen and Cyonara to percolate down into the ground which in turn will effect the newly hatching adults before they can emerge. During their spring hatch, they're vulnerable but hard to reach in the ground unless you've been treating on a regular basis. For this reason its imperative to get them early and often.
CONTACT US *
Give us a call if you need further help. Our toll free is 1-800-877-7290 and we're open Monday through Thursday, 8:00 AM to 7:00 PM. On Friday, 8:30 AM to 5:00 PM and on Saturday, 9:00 AM to 2:00 PM (Eastern Standard Time).
Email questions here:   http://www.bugspray.com/about-us/contact-us
Order online and get a 5% discount! We ship fast with 99.9% of all orders shipping within 1 business day!!


Learn more about BUGSPRAY.COM and why it's never been easier or safer to do your own pest control.


Please show your support for our business by purchasing the items we recommend from the links provided. Remember, this is the only way we can stay around to answer your questions and keep this valuable web site up and running. Thanks for your business!