Most everyone likes woodpeckers. There are many species commonly found throughout North America including the flicker, gila, acorn, downy, hairy, redheaded, green, black backed, ivory billed, sap sucker and pileated. When in the wild, the site of a woodpecker pecking away at a tree is generally an acceptable behavior. But sometimes this pecking can be offensive; often times damaging. Note the accumulated damage to this tree caused by one persistent woodpecker.


WHY DO WOODPECKERS PECK WOOD? *
In most cases, the woodpeckers have found the targeted wood because there is some kind of food supply living inside. Typical insects that will nest in trees or house siding include carpenter bees, wasps, boxelder bugs, house borers and ladybugs.
Though having the woodpecker feed will help reduce the problem insect, in most cases the damage sustained from the pecking can lead to many other costly repairs thus making the behavior unacceptable. If you've got one of the above listed insects living on or in your home, be sure to treat to help reduce their numbers. In many cases this will cause the damaging woodpecker to move away. In cases where you are unsure what the woodpecker is feeding on or if it's even feeding at all, try one of the following repellents.
WHAT PROBLEMS DO WOODPECKERS CAUSE? *
Woodpeckers will also peck on anything which will generate loud "sounds". They will typically find metal edging, hollow backed siding, soffits and even windows to use for this mating ritual. Most commonly done in the spring, woodpeckers will repeatedly beat their pecks against anything which makes a loud noise as they try to establish themselves as a dominant bird in a given territory and get a mate.
Woodpeckers will also peck for food and lastly, they'll peck to build nests.
BEST WOODPECKER REPELLENT *
If woodpeckers are randomly pecking on the side of your home to establish their territory, this can be prevented with very little effort. And even if pecking in search of food, the liquid repellent PEST RID will immediately chase them from where its applied.
Pest rid uses food grade actives which are super concentrated. This "frightens" certain animals like woodpeckers and causes them to forage elsewhere. For limited problems due to territorial marking or food gathering, Pest Rid should keep them away. Treat every 2 weeks but if the problem persists after 1 month, get the Attack Spider listed below.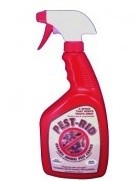 If you have large areas to treat and plan on getting the gallon jug of Pest Rid, you'll need a good PUMP SPRAYER to get it applied.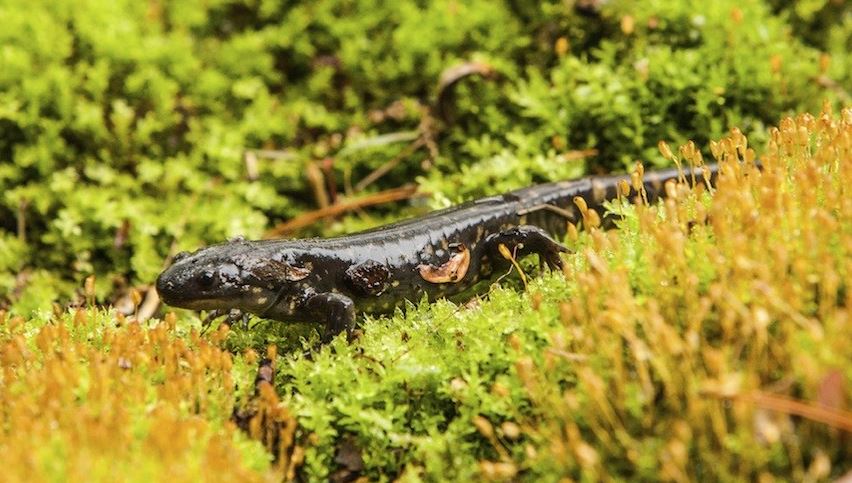 VISUAL WOODPECKER REPELLENT *
If woodpeckers are appearing randomly on the home, set up BIRD TAPE. for longer lasting repellent action. This tape comes in long 25 foot rolls and can be cut to any length. The best way to use it for woodpeckers is to cut three 6 inch lengths which can then be hung just over the active site on the home.
Use a tack, nail or screw to attach it to the home. When sunlight shines on the tape it creates an optical illusion to birds. Flat and weatherproof, Irritape is perceived by woodpeckers as a threat and cause their natural "fright-flight" response to kick in. In most cases this will cause them to move away and forage elsewhere. Bird Tape is ideal for windows where woodpeckers are pecking at their reflection. It can also be used for crop and garden protection or even on a tree you see peckers targeting.
Another effective option is the MOVING SPIDER. This mechanical device looks like a large spider and is activated by any subtle vibration. When nearby motion is detected, it will release an 18 inch length of cord which causes the spider to drop down from where it's mounted.
Motion, movement and vibrations will activate it like those created by a wood pecker which is either pecking for food or sounding for mating/marking territory. The device looks like a large spider complete with legs, head, eyes and mandibles. Two "AA" batteries power the spider and there is an on/off switch located on the bottom (batteries are not included with the Spider). You will need to use a Phillips head screwdriver to remove the side panel for loading the batteries. This panel is located under the fur of the spider and held in place by Velcro straps.
There are two eye hooks for mounting the spider onto siding of the home which are best suited for screwing into wood or stucco. Mount these above the area you want to protect and place the spider flat against the surface of the material being pecked. When the woodpecker returns the spider will be activated and this motion will scare them away.
The Attack Spider is very effective at repelling unwanted birds and you'll get instant results where deployed. Use one spider for every 10 x 10 area needing protection.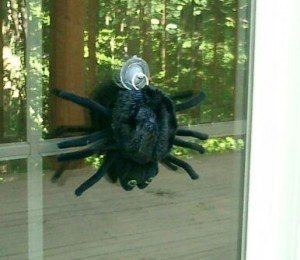 The following video shows the Attack Spider in motion.
ULTRA SOUND WOODPECKER REPELLER *
Lastly, the BIRD GARD is a sounding device that can provide one more option when trying to control woodpeckers. Basically it uses ultra sound woodpeckers find annoying. When placed in line where woodpeckers are active, you can direct the sound at the siding to keep the birds away.
The Bird Gard has an effective range of 900 sq/ft for woodpeckers and can be mounted on the side of the home, up under the eave on the soffit or on a pole directed up at the target site. The Bird Gard can be powered by batteries making it completely remote and self sustaining. When powered by batteries, we suggest keeping it in "motion sensor mode". This setting will rely on the motion sensor to detect an invasive target before it turns on. This will help preserve battery life by keeping it active only when needed.
Alternatively you can power it via the included AC Adaptor. When powered by AC, you can run it continuously. In this mode you won't have to worry about the woodpecker activating it to be spooked; the sound will be on continuously and therefore provide maximum protection.

Woodpeckers are generally not thought of as "annoying" or "nuisance birds". But if conditions are conducive around your home and some start to appear on the structure, they can become a problem. Woodpecker control cannot be done directly to the birds but by employing some of the products and equipment detailed above, you should be able to safely and effectively chase them off your home.
CONTACT US *
Give us a call if you need further help. Our toll free is 1-800-877-7290 and we're open Monday through Thursday, 8:00 AM to 7:00 PM. On Friday, 8:30 AM to 5:00 PM and on Saturday, 9:00 AM to 2:00 PM (Eastern Standard Time).
Email questions here:   http://www.bugspray.com/about-us/contact-us
Order online and get a 5% discount! We ship fast with 99.9% of all orders shipping within 1 business day!!


Learn more about BUGSPRAY.COM and why it's never been easier or safer to do your own pest control.


Please show your support for our business by purchasing the items we recommend from the links provided. Remember, this is the only way we can stay around to answer your questions and keep this valuable web site up and running. Thanks for your business!