Lizards are opportunistic. Gardens, ponds and streams allow populations to prosper. Sprinkler systems will deliver enough water to keep any lizard happy and this leads to many taking up residence along outside foundation walls. Most species of lizards in North America are harmless and eat small insects. Vegetation such as shrubs and flowers are excellent nesting areas for many types. These same plants can become a target for lizards that will find them to be a great source of water during dry spells or in arid regions when water is sparse.
Related articles:     BULLFROGS        CUBAN TREEFROGS        CURLY TAILS        FROGS       SALAMANDERS       SNAKES        TOADS        TREEFROGS
All pest control articles:    PEST ARTICLES
Here is a short clip of the common Chameleon found in many regions of the world.




Here is another Chameleon but this one turns brown.




LIZARD CONTROL *
Controlling lizards is easy. First you should take away their food by doing a little pest control around the house. Next you should set out some repellent granules or repellent spray and lastly, consider setting out lizard traps if they're inside the home.
CONTROL LIZARD FOOD  *
So the first thing that will help is to reduce lizard food. In fact a good insect supply is no doubt the main reason they're choosing your home for a nest site.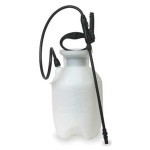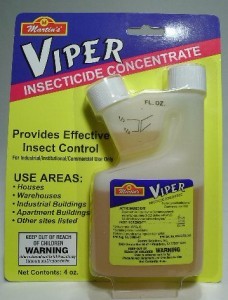 To reduce lizard food, treat the foundation and landscape around your buildings. The best product for this is CYPERMETHRIN. It will provide a quick knockdown and control of any insect. In many cases, spraying every 1-2 months around your home will force any nuisance lizards away with nothing further needed. Apply the Cypermethrin with one of our PUMP SPRAYERS.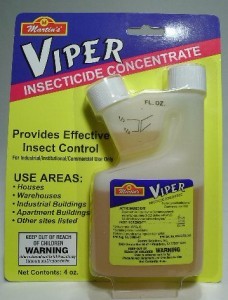 Cypermethrin: http://www.bugspraycart.com/insecticide/liquid/viper-cypermethrin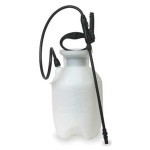 Pump Sprayer: http://www.bugspraycart.com/good/pump-sprayers
HOUSE SAFE SPRAY TO KILL LIZARD FOOD *

For inside the home insect control, apply DFORCE AEROSOL. It comes with a crack and crevice tip for getting the treatment deep into voids where insects and lizards hide. The treatment will kill off unwanted insects which serve as food and the treatment will also irritate lizards so they won't want to stay in treated areas.

D-Force:  http://www.bugspraycart.com/insecticide/aerosol/d-force-14-oz-aerosol
PLANT SAFE SPRAY TO KILL LIZARD FOOD *
Since lizards will many times take up residence in potted plants where insects are living, it's important to kill the lizard food. As explained above, this will many times cause the lizards to move away. A good plant safe spray is BIFEN IT. It mixes with water easily and all you need to do is add some to your watering can used for watering these plants. Mix up 1/2 oz per gallon of water and simply use the mixture in the potted plants. As the mixture filters down through the soil, any insects will be killed. Within a day or two, any lizards living in the plants will figure out there is no more food around and will migrate away.
Bifen IT:  http://www.bugspraycart.com/insecticide/liquid/bifen
INSECT REPELLENT SPRAY TO CHASE AWAY LIZARD FOOD *
Now if you'd rather not kill any of the insects, apply an insect repellent. These will not chase away any insects that are nesting; for anything nesting like roaches or ants, you'll have to use one of the kill sprays listed above. But for pests that are migrating through your yard or garden, either of the following repellents can be used to minimize their visits. This in turn will cause the lizards to forage elsewhere for food.

The first is a concentrate that like the Cypermethrin, can be mixed with water and safely sprayed anywhere insects might be active. NBS can even be added to paint or stain so you can get long lasting insect repellent added to your homes exterior finish.

NBS Repellent:  http://www.bugspraycart.com/exempt/additive/nbs-paint-additive-16-oz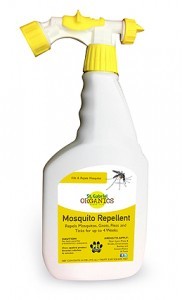 And for the landscape, MOSQUITO GNAT FLEA REPELLENT is a concentrate that comes packaged with it's own hose end sprayer. Like the NBS, it won't kill anything. Just hook it up to your garden hose and spray it anywhere you want to repel insects.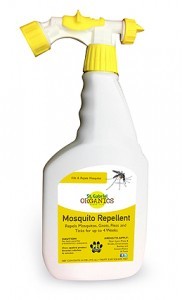 Mosquito Gnat Insect Repellent:  http://www.bugspraycart.com/repellents/liquid/mosquito-flea-gnat-tick-repellent-rts
APPLY LIZARD CONTROL REPELLENTS *
Next apply lizard repellents. The best lizard repellent is made from all natural, low impact actives but lizards like garlic, capsaicin and other plant oils. It comes in both granules and spray. Lizards really hate the odor and will stay away from where it's applied.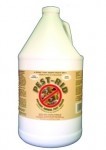 If you have ground dwelling lizards, first apply some PEST RID GRANULES. Common areas to treat include flower beds, mulch islands, pine straw and any place you see lizards on the ground.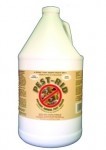 Pest Rid Granules: http://www.bugspraycart.com/exempt/granule/pest-rid-exempt-granules-2-pound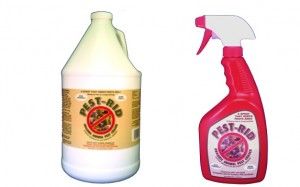 Next spray over the top with PEST RID SPRAY. Be sure to spray the sides of the home too, especially behind gutters, downspouts, window shutters, electric boxes and other areas you know lizards like to hide. Pest Rid treatments will last at least a few weeks and once the lizards are gone, treatments will remain effective for up to two months.

Pest Rid Spray: http://www.bugspraycart.com/exempt/liquid/pest-rid-exempt-liquid-repellent
LIZARD CONTROL GLUE TRAPS *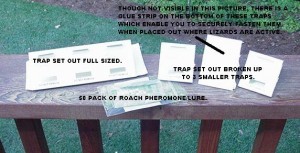 Lastly, set out some roach scented LIZARD GLUE TRAPS. These are ideal for inside the home and can be placed along baseboards, under furniture, on countertops or any place where you have seen lizards foraging. These traps are very effective at catching and holding most common nuisance lizards. The roach pheromones are in the form of small pills which are simply dropped onto the glue trap. Undetectable by people but quickly found by foraging lizards, these boards can be used to trap out local populations.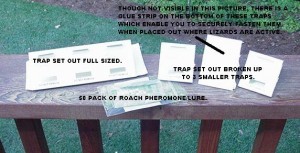 Lizard Traps: http://www.bugspraycart.com/traps/pheromone-and-food/scorpion-insect-lizard-15-pk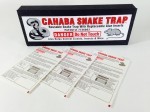 If you have large lizards or need to trap outside, get the OUTSIDE GLUE TRAP. These traps are commonly used for snakes and small animals but work great on lizards up to 1.5 feet long. They are rain proof and can be used in the garden, flower beds, around the homes foundation as well as inside. They are quite sturdy and will last many years too.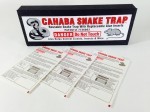 Outside Glue Trap:  http://www.bugspraycart.com/traps/cahaba-snake-trap-small.html
LIZARD CONTROL NETTING *
In the yard, lizards can do a lot of damage to plants. This can happen when they're either feeding on or extracting water from plants growing in the yard. You can try spraying the plants with the Pest Rid listed above and this should keep them away. It won't hurt the plant and it can be used as frequently as is needed. But sometimes this is not enough.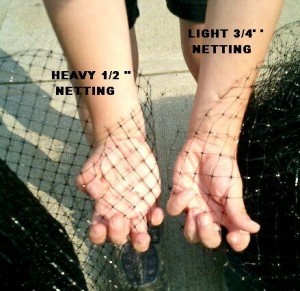 So if you've tried the Pest Rid on a plant that's being targeted but the lizards won't leave, you'll need to protect the targeted plants with some ANIMAL/LIZARD NETTING. This fine mesh plastic is annoying to lizards when they try to chew through it. The plastic will get in their teeth and though it won't present any hazard to them, it will prevent them from being able to properly chew. This annoyance is more than enough to get them to forage elsewhere. The netting is easy to apply and install and will last a long time. Be sure to place it around any plant you want to protect and replace it annually or as needed. Since the need for water can become a matter of survival, most any plant can become a target of thirsty lizards. Animal/Lizard Netting can prove to be well worth the time and cost when trying to save precious plants from these foraging pests.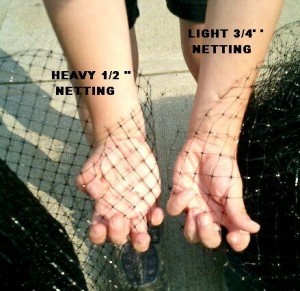 Netting:  http://www.bugspraycart.com/equipment/netting/net-7-x-20-x-34-reg
Lizards are a pest that will find their way into yards which have an abundant supply of insect pests. They like to live close to their food and once they start nesting in your yard, it's only a matter of time before they start coming inside. If you're seeing lizards around the yard, treat foundations and landscape with Cypermethrin to take away their food. The aerosol Dforce is better suited for cracks and crevices where lizards and their food may be hiding. Next apply some Pest Rid repellent. In most cases, this combination of sprays will chase lizards away and keep them off your property.
CONTACT US *
Give us a call if you need further help. Our toll free is 1-800-877-7290 and we're open Monday through Thursday, 8:00 AM to 7:00 PM. On Friday, 8:30 AM to 5:00 PM and on Saturday, 9:00 AM to 2:00 PM (Eastern Standard Time).
Email questions here:   http://www.bugspray.com/about-us/contact-us
Order online and get a 5% discount! We ship fast with 99.9% of all orders shipping within 1 business day!!


Learn more about BUGSPRAY.COM and why it's never been easier or safer to do your own pest control.


Please show your support for our business by purchasing the items we recommend from the links provided. Remember, this is the only way we can stay around to answer your questions and keep this valuable web site up and running. Thanks for your business!