Lizards are opportunistic. Gardens, ponds and streams allow populations to prosper. Sprinkler systems will deliver enough water to keep any lizard happy and this leads to many taking up residence along outside foundation walls. Most species of lizards in North America are harmless and eat small insects. Vegetation such as shrubs and flowers are excellent nesting areas for many types. These same plants can become a target for lizards that will find them to be a great source of water during dry spells or in arid regions when water is sparse.
Related articles:     BULLFROGS        CUBAN TREEFROGS        CURLY TAILS        FROGS       SALAMANDERS       SNAKES        TOADS        TREEFROGS
All pest control articles:    PEST ARTICLES
Here is a short clip of the common Chameleon found in many regions of the world.




Here is another Chameleon but this one turns brown.




LIZARD CONTROL *
Controlling lizards is easy. First you should take away their food by doing a little pest control around the house. Next you should set out some repellent granules or repellent spray and lastly, consider setting out lizard traps if they're inside the home.
HOW TO KEEP LIZARDS AWAY  *
The first thing you can do is to reduce lizard food. In fact a good insect supply is the main reason they're choosing your home for a nest site.
To reduce lizard food, treat the foundation and landscape around your buildings. The best product for this is CYPERMETHRIN. It will provide a quick knockdown and control most any insect. In many cases, spraying every 1-2 months around your home will force nuisance lizards to leave. Be sue to spray at the rate of 1 oz per gallon of water. Coat the foundation, around windows, rain gutters, behind down spouts, around air conditioning units, where pipes enter and exit the home, in flower beds and more. Cypermethrin can be safely applied to turf, plants and structures. Use a good PUMP SPRAYER for treating the home; if you have a lot of yard to treat, a HOSE END SPRAYER will better suited..
---
---
HOUSE SAFE LIZARD SPRAY *
For inside the home, control insects with DFORCE AEROSOL. It comes with a crack and crevice tip for getting deep into voids where insects and lizards hide. The treatment will kill unwanted insects which serve as lizard food. The treatment will also irritate lizards so they won't want to stay in treated areas.
LIZARD REPELLENT GRANULES *
Next apply lizard repellents. The best lizard repellent is made from an all natural, low impact blend of food grade actives. It comes in both granules and spray. Lizards will detect its presence and stay away from where it's applied.
First, apply PEST RID GRANULES. around the homes foundation, walkways, patios, decks and other areas where lizards are seen foraging, roosting or nesting. The granules are not strong enough by themselves to do the job but they're designed to both absorb and keep the liquid Pest Rid active longer. Typically they'll extend the treatment a good 50-100% so you don't have to spray but once every 30-45 days. Coverate is 250 sq/ft per pound so the 2 LB jar will treat up to 500 sq/ft.
LIZARD REPELLENT SPRAY *
Next spray over the top with PEST RID SPRAY. Once impregnated with the liquid spray, the granules will keep the treatment secure and better abled to withstand rain, sun and other environmental variables. Be sure to spray the sides of the home including but not limited to gutters, downspouts, window shutters, electric boxes and areas where lizards like to hide. When used with the granules, Pest Rid spray treatments will last at least a few weeks and once the lizards are gone, treatments will remain effective for up to two months. The quart size comes with it's own trigger sprayer top; the gallon size will require a good pump sprayer to apply.
---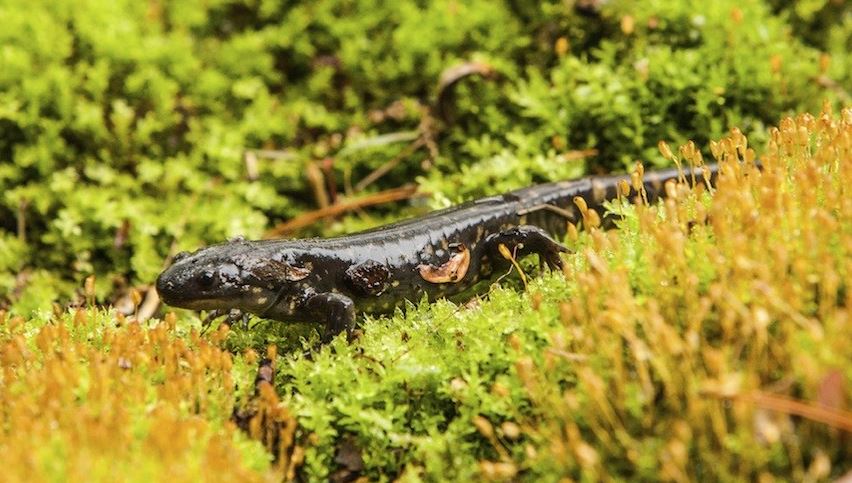 LIZARD TRAPS *
Lastly, set out some baited LIZARD GLUE TRAPS. These are made for use inside the home and can be placed along baseboards, under furniture, on countertops or anywhere lizards are foraging. These traps are very effective at catching and holding common nuisance lizards. They include a wide range of insect pheromones in the form of small pellets which are simply dropped onto the glue trap prior to setting the traps out. Undetectable by people but quickly found by foraging lizards, these boards can be used to trap out local populations.
If you have large lizards or need to trap outside where the traps will be subject to the rain and sun, get the OUTSIDE GLUE TRAP. These traps are commonly used for snakes and small animals but work great on lizards up to 1.5 feet long. They're rain proof and can be used in the garden, flower beds, around the homes foundation as well as inside the home in crawl spaces or attics. They are quite sturdy and will last many years.
CONTACT US *
Give us a call if you need further help. Our toll free is 1-800-877-7290 and we're open Monday through Thursday, 8:00 AM to 7:00 PM. On Friday, 8:30 AM to 5:00 PM and on Saturday, 9:00 AM to 2:00 PM (Eastern Standard Time).
Email questions here:   http://www.bugspray.com/about-us/contact-us
Order online and get a 5% discount! We ship fast with 99.9% of all orders shipping within 1 business day!!


Learn more about BUGSPRAY.COM and why it's never been easier or safer to do your own pest control.


Please show your support for our business by purchasing the items we recommend from the links provided. Remember, this is the only way we can stay around to answer your questions and keep this valuable web site up and running. Thanks for your business!