Drywood termites are very different from their cousins who live in the ground. Common in arid, dry regions, drywood termites live above ground and often times go unnoticed for many years.
Drywood termites can do a lot of damage because they eat wood. And they will most often infest outside siding like soffits, facia boards or attic spaces. These areas are often far from active people living in the home which allows the problem to develop undetected.
HOW DO YOU KNOW IF YOU HAVE DRYWOOD TERMITES? *
Don't expect to actually see live termites. Its more likely you'll see swarmers which are winged reproductives an active colony will release 1-2 a year.
The most common way people learn that they have drywood termites is because they start to find termite droppings.
This happens after a colony gets established on the home. At first, their droppings could very well be dropped outside the home or in a wall void out of sight.  But over time, the colony will grow and their fecal matter will increase which means the likelihood of finding some will increase.
Eventually the activity will move down to living areas where they'll end up dumping it through a port or "hole" which leads into a living space. Through these holes the droppings will be sent and that's when the homeowner begins to notice little piles accumulating on a countertops, alongside baseboard molding or inside a cabinet.
Drywood termite fecal pellets are small, a bit thinner than  grain of rice, and half as long. Most people mistake it to be nothing more than dirt. But if you keep finding the same "dirt" in the same place, take a close look.
DRYWOOD TERMITES CAN CAUSE DAMAGE *
Like most wood eating organisms, drywood termites will cause damage as they eat their way through structural members in the home. In general, they don't move quickly so don't panic if you discover activity. But understand the problem needs to be treated to ensure it doesn't linger allowing them to cause more damage.
HOW TO TREAT A HOME FOR DRYWOOD TERMITES *
The most common way drywood termites have been treated in the past was by tenting the structure and fumigating. This process ensures all active insects in the home are killed. But the treatment is costly; the average home will cost $15,000+ to be fumigated. For this reason other treatments have been developed and at this time, there are a couple that work well.
HOW TO TREAT OPEN WALL VOIDS OR ATTICS FOR TERMITES *
For open areas like an attic, rafters, roof decking, exterior siding and the wood found under the home in crawl spaces, BORACARE is a good way to properly treat an active problem. Boracare is a boron based chemical which is designed to soak into wood. A thorough application can penetrate 3-4 inches and once the treatment cures (which takes 48-72 hours), insects eating the wood will die. So for open, accessible areas, Boracare is a cost effective long lasting treatment that will both control and prevent future termite activity.
To calculate how much Boracare you'll need to apply, you'll first want to measure the square footage of the area you intend on treating. Coverage will depend on the thickness of the wood. For example, 1″ thick siding will require 1 gallon of concentrate per 1,000-2,000 sq/ft. But if you're treating mostly 2×4's or 2×6's, coverage will be less and more in the range of 500-1000 board feet.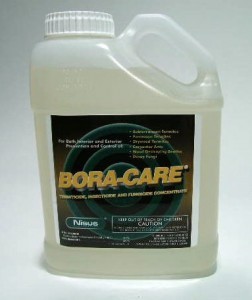 Boracare is odorless and can be applied with a standard PUMP SPRAYER. But you can also paint it on.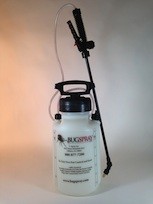 For hard to access spaces, you can even fog it. We have several FOGGER RENTALS which will mist the product out over the area needing protection thus ensuring proper coverage with little effort. The good thing about fogging is that you can get the material evenly distributed in very little time. The fogger will pump out a gallon of mixed material in about 12-15 minutes.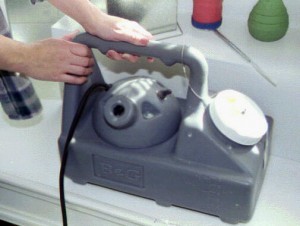 HOW TO TREAT HIDDEN WALL VOIDS AND SPACES FOR TERMITES *
If you have termites behind a wall void and don't want to open up the space, you can inject PREMISE FOAM into the space and avoid having to tear up your home.
Premise comes packed in cans that can treat up to 1000 cubic feet so for most termite problems in the wall, 1-2 cans will be enough to get the job done.
The cans come with small needle like injectors and if you drill access holes through the wall covering, you can use the holes to pump in the foam.
Premise uses a non-repellent active termites won't notice. They'll move over and through the treatment all the while picking up chemical which will be brought back to their nest and shared with other members of their colony. Premise won't work quickly; it typically takes 3-5 days to kill a  nest. But if you have a good idea where they're active and you treat at least that area and the surrounding walls attempting to got 4-5 feet in all directions around the current evidence, you should get positive results.
Unlike traditional pesticides, Premise won't spook the termites allowing them to find areas you didn't treat. But you still need to get enough "in the zone" so make sure you get a least 1/2 if not a full can applied.
Premise is also a great product to inject in exposed galleries. So if you discover galleries in your attic or crawl space and intend on treating with Boracare, treating first with Premise Foam will help provide quick control and then with the Boracare applied afterwards, you won't have to worry about termites or any other wood destroying pest for 10+ years.
In summary, drywood termites can be "scary" when first identified. But they don't eat quickly and with the right product applied at the right location, you can control any nest using either Boracare or Premise Foam.