European Hornets are one of the only "real" hornets we have in the United States. They are large, intimidating and can sting. When nests are located close to your home the chance of conflict is heightened; when nests are located in the home the chance of conflict is inevitable. This article will detail some basic biology of this insect and then offer methods on how you can control local infestations.
In case this is not what you're looking for, we also have in depth articles on:         CICADA KILLERS          DIGGER WASPS           MUD DAUBERS          WASPS        YELLOW JACKETS
EUROPEAN HORNET BIOLOGY *
European Hornets, like other European Species of insects, made their way over to North America on trade ships and other vessels. Once in the America's most of these insects found a world where they could easily thrive. European Hornets were first noted in the early 1800's, in the northeastern region of the United States. Now they can be found in most every state east of the Mississippi and most states out west as well.
European hornets look very much like Cicada Killers though they are more closely related to Yellow Jackets. European hornets are large – commonly found 1.5 to 2.0 inches long – and can fly quickly. It is hard to tell them apart from cicada killers and only a trained eye can do so easily. However, this is where the similarities end.
Unlike cicada killers which are solitary and prey mostly on cicada's, European Hornets will prey on many types of insects, both alive and dead, and are attracted to most anything sweet or protein based.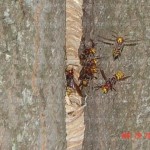 European hornets will readily eat fruit and honeydew (tree and plant sap). This characteristic is why they are more like yellow jackets; furthermore, their nests are generally large and contain hundreds if not thousands of occupants just like yellow jackets.
Nests start in the spring when females lay eggs which hatch in a few weeks. This first generation goes to work immediately building a nest as the queen does nothing but lay eggs. By late July and August the nest will be built and most attention at that time will be spent accumulating food.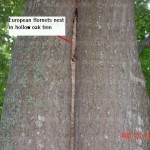 WHERE DO EUROPEAN HORNETS NEST? *
Nests can be located anywhere. Common locations include tree nooks and hollows, under the siding of houses and in attics or crawl spaces. They typically like to find a space which will provide protection from the sun and rain. This space should be able to fit a football to medicine ball sized paper nest. Though the nest is constructed of this material which looks much like a paper wasp or bald faced hornet nest, European Hornets don't like to have any of it exposed. They prefer the body of the nest to be hidden inside the void or cavity where they chose to construct it. For this reason nests will commonly be constructed inside the nook of a tree.
European Hornets will travel great distances for food. As their nest grows through the summer, so to do the occupants. Once eggs hatch, worker and scout hornets will forage for insect prey, carrion and sweet food like honeydew. Unlike most predatory wasps which are solitary, European Hornets will hunt in groups. They may identify a target insect they want which is bountiful and focus on it for a day or two harvesting as much of it as they can get.
Prey is brought back to the nest and either consumed or stored for developing young. To satisfy the need for sweet nutrients, they may target well ripened fruit or honeydew. Unlike yellow jackets or ants which can harvest honeydew from plants, European Hornets require big quantities and will go to great lengths to find a good supply. Like yellow jackets, they can "chew" through wood quite easily and will use this ability to strip bark from trees in an effort to harvest sap. This is called "girdling" and can kill targeted trees or shrubs.
WHAT PROBLEMS DO EUROPEAN HORNETS CAUSE? *
European hornets become a problem around the home when their presence is noticed. If you see them on your property, there is either a nest close by or they are coming to feed on something local in the yard. So the first problem they present is the possibility of getting stung. The next problem they present is the damage they will do when they target fruit in the garden or tree. Lastly, if they target a tree to girdle, the tree can easily succumb to the loss of sap and die. For this reason its generally important to figure out why they're foraging around your yard so you can take corrective action if needed.
HOW CAN YOU CAN YOU CONTROL LOCAL EUROPEAN HORNETS? *
There are many ways to control European Hornets. The key is using the right method based on why they're a problem. Options include using a gel bait, a non-repellent spray, a non repellent aerosol, a contact killing spray and a contact killing aerosol.
HOW TO STOP EUROPEAN HORNETS FROM TREE GIRDLING *
Tree girdling is the damage done when hornets tear away the bark of a tree or shrub to gain access to sap and honeydew. This behavior may look innocent but eventually can lead to tree or shrub death. Since the sap seems to be sweeter in trees or bushes which produce lovely flowers, expect flowering plants to be a prime target.
Lilac and rose bushes are favorites and once they are tapped expect more hornets to focus in on the available sap. This can lead to plant damage – especially during the warm season – if the plant is already under stress. The cuts in bark or stems will cause the plant to "bleed" sap which the hornets will readily harvest. It is not uncommon to see several hornets landing at one time to feed.
EUROPEAN HORNET BAIT *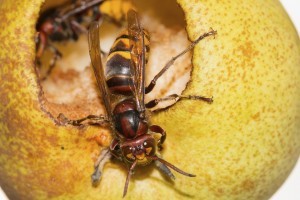 If you find girdling with active european hornets harvesting the honey dew, there is a HONEYDEW GEL BAIT that can be applied over the cut which will be readily accepted by the feeding hornets. Simply apply small amounts of the gel over the damaged areas leaking sap. It doesn't take much; they will suck it up and bring it back to the nest.
In a few days the product will to work it's way into the nest. This happens as the gel is digested and defecated. The initial gel is designed to protect the active but once the gel is digested, this protection is chemically broken down. And once defecated, the droppings will have exposed chemical which will in turn start to kill all members of the nest.

NON REPELLENT SPRAY FOR TREATING ENTIRE TREES OR BUSHES *
If the hornets are damaging or feeding on a tree but are using it for a staging site, they'll be active on all parts of the tree throughout the day. This can present a danger to people and pets and in general, should be treated using a non repellent spray like OPTIGARD. This active is mixed with water and can be sprayed on any surface without target insects knowing a chemical was applied. They'll readily walk over the treatment and in turn, pick up the active and bring it back to their nest. The chemical will then be transferred to other members of the colony and after 2-4 days, the active will start work by killing every member which was exposed.
Optigard should be mixed at the rate of .5 oz per gallon of water and sprayed over an area no more than 500 sq/ft.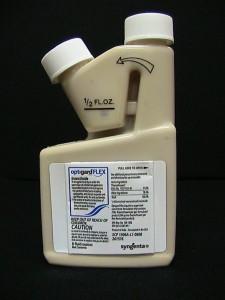 HOW TO STOP EUROPEAN HORNETS FROM FLYING AROUND PORCH LIGHTS *
Most european hornets will send out scouts at night looking for food. These scouts will commonly be attracted to lights which means they might come around a deck or porch which has a light burning when its dark. In some cases they'll be attracted to lights inside the home and when this happens, they might start flying into windows over and over making a lot of noise and in some cases, damage.
To stop this behavior, you can install a FLYING INSECT LIGHT TRAP. Unlike traditional "zappers", this trap uses a spinning "fan" of wire that will cut up any pest which comes to close to the light.
To use this trap effectively, you'll need to turn off all the outside lights where you have the most activity. Hang the Light Trap up at least 6 feet off the ground, plug it in and let it get to work. The trap includes a photo light sensor so it will only power on when its dark out.
European hornets targeting the light will fly up to it and get ripped apart instantly. The nest will probably send some more but after 1-2 weeks, they will stop. Use the light trap to control moths and other night time pests as its very effective and requires very little energy to run.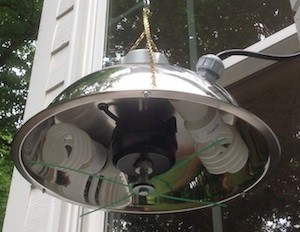 NON REPELLENT SPRAY FOR EUROPEAN HORNETS ON THE HOME *
If the hornets are simply landing on the home using it as a staging area, the non repelling OPTIGARD. can be used to effectively stop this behavior. As explained above, this active doesn't kill the target pests on contact or repel them. Instead, Optigard is transferred to the target pest and then "shared" with other members of their colony in the days following it's contact with the treated surface. After 3-4 days of cross contaminating the members of the colony, the Optigard will eventually kick in and take effect.
Mix .5 oz per gallon of water per 500 sq/ft and within a week, all activity will stop and they'll be gone.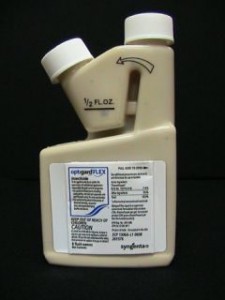 HOW TO TREAT EUROPEAN HORNET NESTS IN THE HOME *
If you have a hornet nest up under the siding of your home, use the non-repelling spray known as PHANTOM AEROSOL. Its best suited for small, specific areas and is ideally suited for treating their holes when you know where one is located.
Like Optigard, Phantom is non-repelling so the hornets won't know its present. To safely treat, you'll need to do the application at dark and you need to move quickly. The Phantom comes with a straw tube injector you'll want to stick in the entrance hole. Let the aerosol "pump" into the next for 10-15 seconds and then quickly leave the area. Do this treatment nightly for at least 3 nights and by the 3rd or 4th night, the nest will start to die. By one week, it should be completely dead. The advantage of using Phantom over any standard wasp freeze or other traditional spray is that it won't "spook" or chase the hornets deeper into the wall void which is the last thing you want to do. So for homes with hornet nests well hidden in wall voids, the Phantom is ideally suited for the job.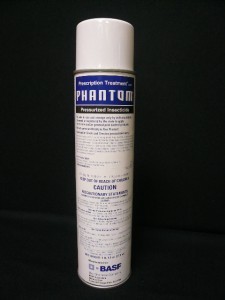 HOW TO TREAT HORNET NESTS IN A TREE WHERE THE ENTRANCE IS EASY TO REACH *
For nests which are easy to see and reach within 10 feet, a good treatment with HORNET FREEZE  should knock it down. This formulation is much stronger then any store bought type and will quickly kill them as they get hit. Use at least 1/2 can and let the treatment sit for 30 minutes to see if you got them all. In most cases, it will take the remainder of the can and many times a second can but as long as you can get the material directly into their nest, it will kill it quickly.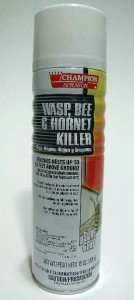 European Hornets are a big nuisance around some homes. If they are drawing sap from any of your trees or shrubs, use some of the Honeydew Gel to keep them away. Spray some Cypermethrin or set up some large Glueboards if they are landing around outside lights. Once inside the home, you will need to treat from the inside with someDforce Aerosol if you can; use the Drione Dust if you have to treat from the outside. Be sure to equip yourself with the proper safety equipment since these hornets pack a nasty sting and will get very aggressive once you start poking around their nests. If you have European Hornets on your property you have several options available for treatment. Once the problem is identified use the right treatment if you want to keep them away or kill their nests.
CONTACT US *
Give us a call if you need further help. Our toll free is 1-800-877-7290 and we're open Monday through Thursday, 8:00 AM to 7:00 PM. On Friday, 8:30 AM to 5:00 PM and on Saturday, 9:00 AM to 2:00 PM (Eastern Standard Time).
Email questions here:   http://www.bugspray.com/about-us/contact-us
Order online and get a 5% discount! We ship fast with 99.9% of all orders shipping within 1 business day!!


Learn more about BUGSPRAY.COM and why it's never been easier or safer to do your own pest control.


Please show your support for our business by purchasing the items we recommend from the links provided. Remember, this is the only way we can stay around to answer your questions and keep this valuable web site up and running. Thanks for your business!