Rock chucks are indigenous to the western half of the United States. Cousins to the east coast woodchuck, rock chucks are more likely to reside in elevated landscapes and have been found throughout most of the northwestern states. They readily occupy rock piles and will dig deep descending burrows around these protective objects.


Related articles:        ARMADILLO        BADGER        FERAL PIGS        GROUNDHOGS        JAVELINA        OPOSSUM        PORCUPINE        RABBIT        RACCOON        SKUNK
Other information:         PEST ARTICLES


THE PROBLEM WITH ROCK CHUCKS
*
Rock chucks will readily claim several acres for their territory. And they're proven comfortable traveling great distances to find food. This is why they're a nuisance. Rock chucks love most any garden grown vegetable and will readily graze leading to rapid crop loss and damage.
ROCK CHUCK LIFE CYCLE *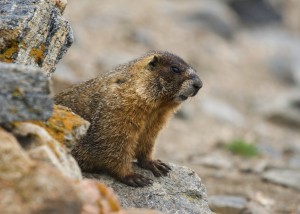 Rock chucks start reproducing at 2 years of age. Colonies can support 10-20 individuals and they'll mostly hibernate during cold winters. But if its warm, they'll remain active.
New colonies develop when teenage males (1-2 year olds) move to a new territory and dig a new home. Once these bachelors have their new home, they'll aggressively seek multiple females as mates. Male rock chucks will try to get 3-4 females to live with him and once they move in, breeding will start and continue all summer long.
Females typically produce 3-5 pups per litter so as spring turns to summer, they're food requirements can become quite substantial. This is when conflict with man can occur. Especially in dry arid regions where succulent plant food is limited. In such areas, rock chucks will travel as far as is needed to find food.
USE REPELLENTS BEFORE ROCK CHUCKS COME AROUND *
Rock chuck repellents should be used before you have an established den. They have natural predators like coyotes, fox, bobcat, cougar and timber wolf. And because they're naturally afraid of these predators, one can use the urine of these animals as a barrier to keep rock chucks off your property. Ideally you should use a urine which is native to the area. In other words, if you have cougar or bobcat in your region, their urine will work. But if you don't have timber wolves, it's not likely rock chucks will know to be afraid and typically will ignore it.
So if you know of a nearby rock chuck population that lives just off your property, apply COYOTE, FOX, BOBCAT, COUGAR or WOLF urine to create an invisible "fence" to keep them off your property.

---

---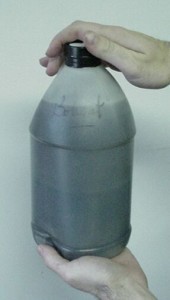 ---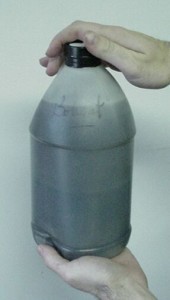 ---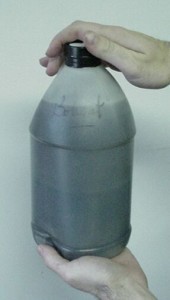 Do this by applying 1-2 oz of urine every 10-15 feet along the border of your property. Applications will remain active for 30-45 days and should be applied late winter through the spring and summer months since these are prime time for rock chuck migration.
For longer lasting residual action, use either CAPSULE GUARDS or LIQUID GUARDS to protect the urine placements. Either of these protective devices can be placed on the ground and when filled with urine, will effectively shield it from sun and rain.

---

BEST ROCK CHUCK SPRAY REPELLENT *
Since rock chucks will sometime target specific plants in the yard, the use of urine alone may not be enough to chase them off the land. For extra protection, apply PEST RID GRANULES around plants, flowers and shrubs you want to protect. Pest Rid has an odor rock chucks don't like and will avoid where its been applied.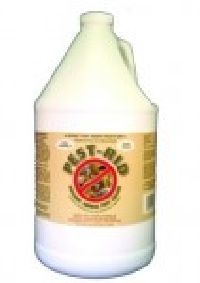 After applying the Pest Rid granules, spray over them with PEST RID SPRAY. This will magnify the odor and keep it active for 30+ days. Also spray the plant making sure you cover all low lying sections rock chucks can reach. This is usually the bottom 2 feet of the plant.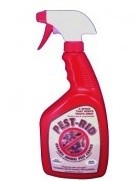 LIVE TRAP ROCK CHUCKS FOR QUICK CONTROL *
As well as Pest Rid and urine can work at keeping rock chucks out of the yard, sometimes repellents aren't enough. This is because the lure of food is so strong most rock chucks will take the chance of passing through the regions where malodor is present because they need to feed. In situations like this, the use of a live trap will help. Its easy to set, highly efficient and one trap can last 10-20 years so its quite cost effective.
For rock chucks, the LT111230RD is usually large enough. Place the trap where you see trails, footprints or entry ways to your garden. Use a small amount of any plant or vegetable as lure (what the rock chuck has been targeting) and you should be able to trap them within a few days.

Now if the burrow is on your property, the LT111236BD live trap might be a better option. It features a "bottom entry" doorway which can be placed directly over their entrance/exit hole. This will effectively "force" them into the trap when they come out and makes catching them easy. This design is especially effective for rock chucks since one den can host several animals.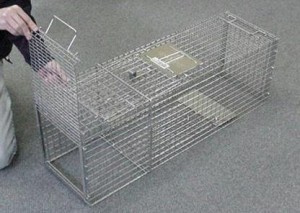 For either live trap, the fruit or vegetable they're eating will usually be the best bait to use. But in cases where you're not sure what they're eating, go with some ROCK CHUCK FOOD LURE. This plant based food lure works well on foraging rock chucks and a tablespoon or two placed in a small plastic tray will do the trick.

ROCK CHUCK KILL TRAPS *
Lastly, rock chucks can be controlled using kill traps. These traps are small but use strong springs to "compress" the animal when they pass through the trip mechanism. Set the trap over their den entrance/exit holes or where you suspect they're passing through a fence or other border. The 220 BODY GRIP is the preferred size and will kill within seconds.

It will take a strong hand to set the 220 so to help the "beginner", a pair of SETTERS will make the task easy.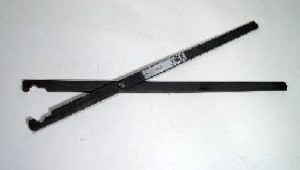 ROCK CHUCK MANAGEMENT *
Once the problem rock chucks are removed from your property, use one of the predator urines to keep new ones from foraging on your property. Rock chucks can be a problem once they start nesting or feeding on your property. Though Pest Rid can stop them from targeting specific plants, live trapping may be needed. Once removed, use some animal urine to make sure they don't come back.
CONTACT US *
Give us a call if you need further help. Our toll free is 1-800-877-7290 and we're open Monday through Thursday, 8:00 AM to 7:00 PM. On Friday, 8:30 AM to 5:00 PM and on Saturday, 9:00 AM to 2:00 PM (Eastern Standard Time).
Email questions here:   http://www.bugspray.com/about-us/contact-us
Order online and get a 5% discount! We ship fast with 99.9% of all orders shipping within 1 business day!!


Learn more about BUGSPRAY.COM and why it's never been easier or safer to do your own pest control.


Please show your support for our business by purchasing the items we recommend from the links provided. Remember, this is the only way we can stay around to answer your questions and keep this valuable web site up and running. Thanks for your business!