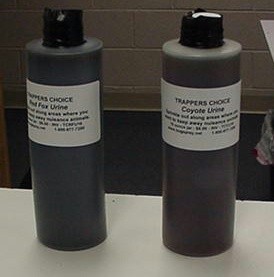 WHERE TO USE IT:  Both fox and coyote urine have a multitude of applications for trappers and hunters.
Trappers have been using it as a mask, a cover scent and a lure. One of the best ways to use it is to trick the target animal into thinking another animal is using it's territory.
Urine is applied to trees, traps, the ground or other areas where coyote or fox are active.
$13.00   (745261) 16 oz
Order online and save 5%



$30.00   (745263) 1/2 gallon
Order online and save 5%



$55.00   (745265) gallon
Order online and save 5%