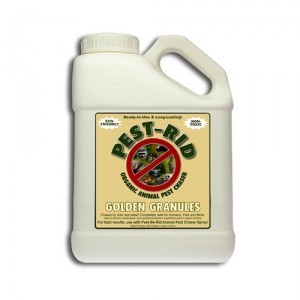 PRODUCT DESCRIPTION:   PEST-RID granules use federally exempt actives in a vermiculite base which will keep PEST AWAY SPRAY active longer when used in the yard.
Use Pest Away to deter beetles, deer, ducks, frogs, geese, iguana, racoon, skunks, snakes, squirrels and snails.
WHERE TO USE IT:    Around the home, spread 1 lb of Pest Rid granules for every 250 sq/ft.
Spread them around trees, shrubs, flower beds and other areas where target animals are known to bask, feed or be seen.
** SPRAY OVER THE TOP WITH PEST AWAY SPRAY FOR THE GRANULES TO WORK – DO NOT USE GRANULES ALONE**
PRODUCT DOCUMENTS:       SPECIMEN LABEL
$25.00    (455450)(treats 500 sq/ft)(3+ $20.00 ea)
Order online and save 5%


---
SPRAY PEST AWAY OVER THE TOP: 2 OZ PER GALLON OF WATER