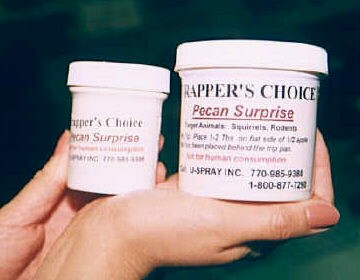 PRODUCT DESCRIPTION: Pecan Surprise is a special nut based paste which squirrels, rats, mice, chipmunks, flying squirrels and other small animals love. It combines nuts and other sweet, nutritious attractants into a "sticky" paste which cannot be ignored by nuisance animals.
WHERE TO USE IT: In and around businesses, homes and commercial establishments where you need to bait or use traps. Pecan Surprise is a great way to get targeted animals to accept rodenticide or enter a cage thus insuring a quick catch.
RATE OF APPLICATION: Small dabs of 1/2 to 1 teaspoonful is all that's needed for live or kill set traps. Use "rice sized" dabs at trap entrances to insure they the way inside. It's strong nutty scent will permeate all around the placement and is sure to get the attention of any animal foraging close to your set.
RELATED PRODUCTS:         LIQUATOX         LOGANBERRY PASTE        MIXED BIRD SEED
RELATED TRAPS:       COVERED KILL TRAP      LIVE GREEN TRAP WIRE CONSTRUCTION 5x5x16        LIVE TRAP 3x3x10 GALVANIZED SHEET METAL
RELATED REPELLERS:   ULTRA SOUND REPELLER (ABOVE GROUND)     SOLAR POWERED GROUND STAKE REPELLER       ODOR NEUTRALIZER
$15.00   (825325) 2 oz (3+ $12.00 ea)(Free Standard Shipping)
Order online and save 5%



$30.00   (825328) 8 oz (3-5 $27.00 ea)(6+ $25.00 ea)(Free Standard Shipping)
Order online and save 5%



8 OZ OF PECAN PASTE plus 2 BAGS OF FREE LIQUATOX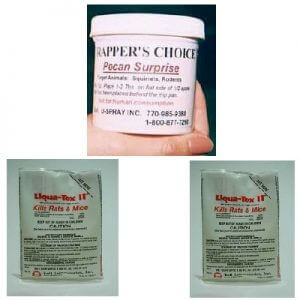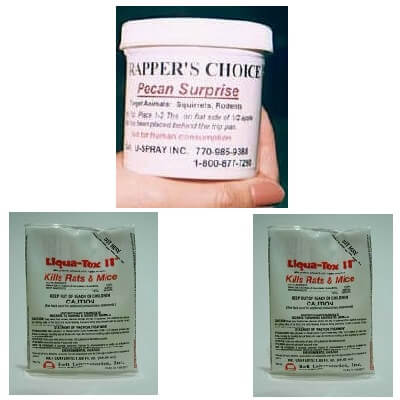 $45.00 (825324) 8 oz Pecan Paste (+ 2 FREE bags of LIQUATOX)(Free Standard Shipping)
Order online and save 5%


INTERNATIONAL CUSTOMERS ORDER HERE