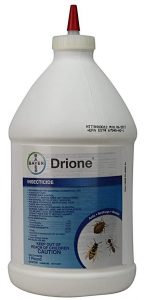 PRODUCT DESCRIPTION: Drione is a low odor dust which is white and works as a dessicant on insects. Once on them, Drione cuts away at their exoskeleton and then robs them of vital moisture. This unique formulation will last over a year in treated voids. Drione is very safe to use and works mostly by dehydrating insects and not chemically like other pesticides.
TARGET PESTS:   Ants, cockroaches, bedbugs, silverfish, fleas, lice, bees and wasps.
RATE OF APPLICATION: 1 lb covers 800 sq/ft; 100+ carpenter bee nests. When treating cracks and crevices along the home exterior, expect to use 1-2 lbs for the average 2000 sq/ft home.
PRODUCT DOCUMENTS:     LABEL  1 LB     MSDS 1 LB
DUSTERS FOR APPLYING DRIONE:     CRUSADER     CENTRO 14 OZ      CENTRO 14 OZ w/12″ EXTENSION      BG LONG REACH DUSTER           DUSTICK     DUSTIN MIZER
$80.00   (452829) 1 lb.
Order online and save 5%



$380.00 (452831) 7 lb's
Order online and save 5%



SAVE $5.00 WITH THE 12″ DUSTER/DRIONE KIT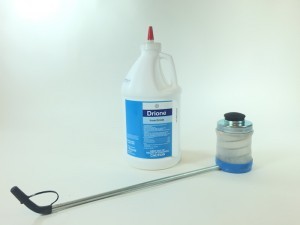 $110.00 (452835LS)
Order online and save 5%


Supporting Video