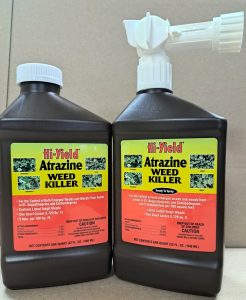 PRODUCT DESCRIPTION: Herbicide that is OK to use on both Centipede and St. Augustine. These species of grass are particularly sensitive to most herbicides but the Atrazine is one material that can be used on them safely.
WHERE TO USE IT: In season Centipede and St. Augustine. Can be used on Bermuda which is dormant but do not use it on any type of Fescue or bent grass.
TARGET WEEDS: Atrazine will control and suppress several common weeds including the following: Henbit, Moneywort, Pennywort (Dollarweed), Betony, Chickweed (Common and Mouseear), Crabgrass, Spurge, Annual Bluegrass (Poa annua), Dichondra, Knotweed, Cudweed, Florida Betony, Lespedeza, Mustards, Narrowleaf Vetch, Parsley-Piert, Sandspur, Smutgrass, Spurweed, Swinecrest, Woodsorrel and Various Annual Clovers.
RATE OF APPLICATION: 4.3 oz per gallon per 500 sq/ft of grass. Treat early morning or late evening when temperatures are below 90 degrees and be sure to water in the treatment if you don't get any rain to enable the Atrazine to work on seeds too.
RELATED PRODUCTS:          PUMP SPRAYER
PRODUCT DOCUMENTS:       SPECIMEN LABEL       MSDS SHEET
$12.00   (954206)
Order online and save 5%


Supporting Video