Question. I'm looking for an inexpensive, environmentally safe way to get rid of the Hemlock Woolly Adelgid Aphid. Hopefully it will be easy to apply and with no toxic residue. Maybe something organic?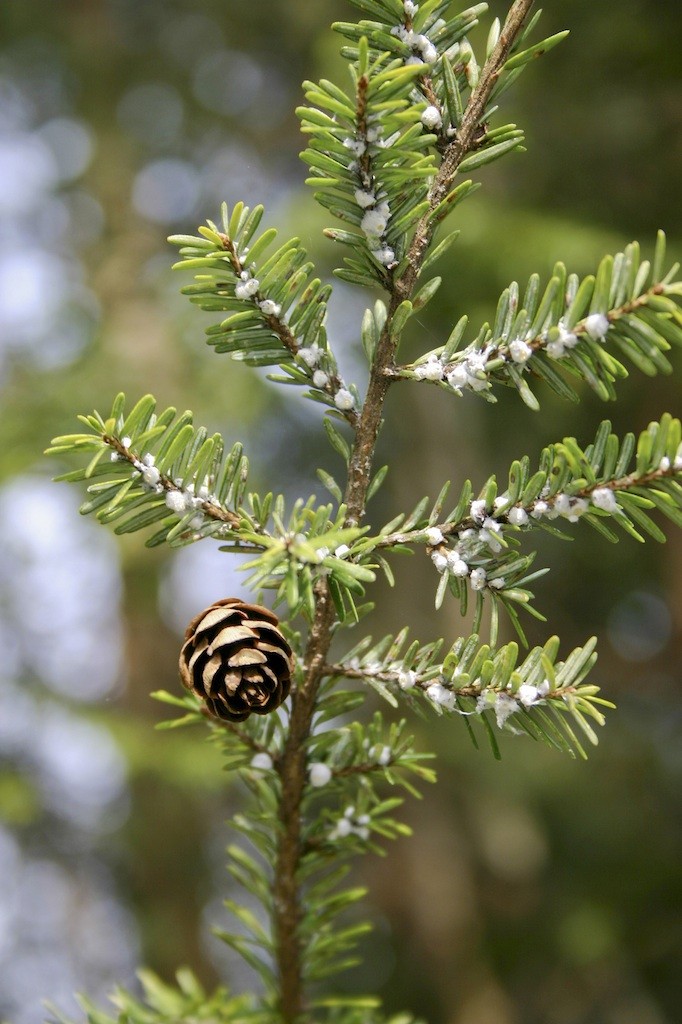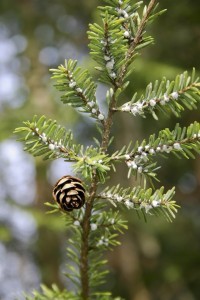 Woolly adelgid aphids have become a major problem throughout north america. They'll readily infest a wide range of trees and shrubs and they're damage will lead to plant death if left untreated.
WHAT IS A WOOLLY ADELGID?
Wooly adelgids are a type of aphid. They're quite small and appear as a small amount of cotton; kind of like a piece of fuzz. If given the chance, adelgids will literally suck the life out your host plant and populations can explode in as little as one season.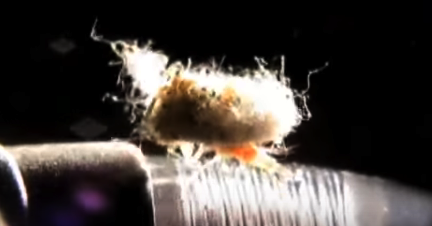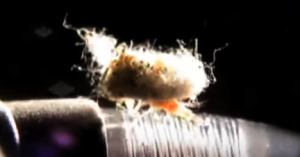 Here's a closeup picture of one walking on a pen.
Wooly adelgids are easy to miss but to most people, will appear to be some kind of "fungus" when first noticed. The easiest way to tell if its a fungus or an adelgid is to simply shake the tree limb. If the "fungus" starts crawling around, you've got a problem that needs to be treated.
ORGANIC WOOLY ADELGID SPRAY
For vegetable gardens, MULTI PURPOSE INSECT KILLER does a good job of eliminating this pest. Treat once  a week for two weeks and the problem should be resolved.
Mix 6 oz per gallon of water and distribute the mixture over approximately 500 sq/ft of plant foliage for fast control. Do the treatments in early evening before dusk. This insures no stress for the plant and maximum effectiveness for the treatment since it will get to sit overnight without direct sunlight exposure.
BEST WOOLY ADELGID SPRAY
For any kind of evergreen or hardwood, use a combination of BIFEN and SPREADER STICKER.  Treatments with this mix will last 3-6 weeks and in general you'll see long lasting results.
For infested trees, mix 1 oz of Bifen per gallon of water and try to cover as much of the active areas as possible. 1 mixed gallon can cover up to 500 sq/ft of foliage. Retreat every 2 weeks for the first month to insure complete control. Bifen is odorless and water based so it won't pose any hazard to the tree. Do the treatments in the evening when possible to insure maximum impact.

To help insure complete coverage of infested limbs, add 1 oz of SPREADER STICKER to the tank mix for every 1 oz of Bifen. Spreader Sticker helps the active to "spread" around plant foliage. It also helps get the Bifen to penetrate the adelgids which can shield themselves from the chemical using their fur like backs for protection.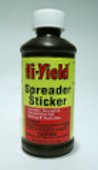 EQUIPMENT NEEDED TO TREAT FOR ADELGIDS
Any of the sprays listed above can be applied with a standard PUMP SPRAYER. Our sprayer can hold 1 gallon and when pumped up to a high pressure, it can spray up to a height of 15 feet.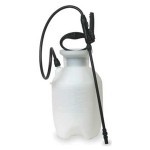 If you need to reach higher than 15 feet, consider using  HOSE END SPRAYER. Using the power of your garden hose, these sprayers can usually reach upwards of 30 feet or more.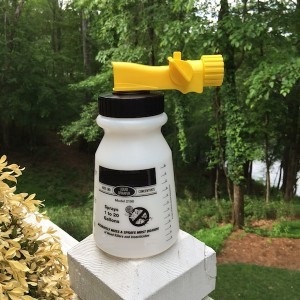 Lastly, if you need a "portable" sprayer, the TROMBONE SPRAYER might be the right device for your needs. Like the instrument the "sliding trombone", this sprayer is powered by pumping the handle back and forth. Heights of 25-30 feet can be achieved and since it relies on suction to withdraw the spray being applied, one can carry a 5 gallon pail or more afield to make the required application.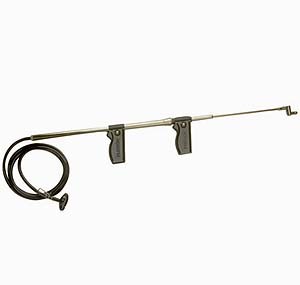 SYSTEMIC TREATING FOR WOOLY ADELGIDS
For the ultimate adelgid control, use DOMINION 2L once  a year as a systemic. This type of treatment relies on the active getting distributed to the plants foliage. Once in the plants sap and green growth, anything feeding on it will die within a few days. This option will yield the longest lasting results and over time, the easiest to do. Treatments made in February through March will usually last the entire year and protect the plants for whole season.
Use .1 to .2 oz per inch of tree width so for a tree with a 10 inch wide trunk, you'll need 1 oz added to 2-3 gallons to be used as a soil drench around the base of the tree. Do this by making holes in the ground inside the trees drip line.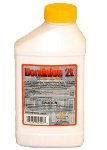 CONTACT US
Give us a call if you need further help. Our toll free is 1-800-877-7290 and we're open Monday through Thursday, 8:00 AM to 7:00 PM. On Friday, 8:30 AM to 5:00 PM and on Saturday, 9:00 AM to 2:00 PM (Eastern Standard Time).
Email questions here:   https://bugspray.com/about-us/contact-us
Order online and get a 5% discount! We ship fast with 99.9% of all orders shipping within 1 business day!!


Please show your support for our business by purchasing the items we recommend from the links provided. Remember, this is the only way we can stay around and keep this valuable web site up and running. Thanks for your business!