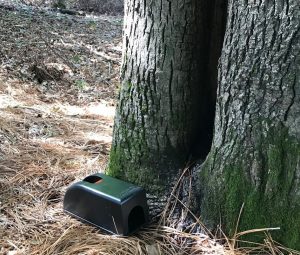 PRODUCT DESCRIPTION:   Heavy gauge plastic trap strong enough to kill small rodents like rats, chipmunks, squirrels, voles and even snakes (in general we don't advocate killing snakes but we have had customers use these for venomous species like copperheads). Each trap features a built in "bait cup" and is super easy to set. The protective cover shelters the trap from the rain allowing for discreet placements around the home both inside and outside where rodents are known to travel.
Each trap measures 9″ long by 4″ tall by 3″ wide.
WHERE TO USE IT:    Along foundation walls, under decks, in crawl spaces, attics, along baseboards, garages and alongside tunnels or burrows ground dwelling animals are using.
RATE OF APPLICATION:   Place traps every 10-20 feet along known  As many as needed. It is not unusual to install 10-12 traps where rodents, snakes or lizards are active.
SUPPORTING VIDEO:
HOW TO SET UP:  The snap trap inside the trap cover can be removed but in general, its best to leave it mounted to the cover base.
To gain access to the trap for baiting and animal removal, firmly pull on the back tab located on the back bottom edge of the cover. The tab is clearly marked on the trap cover here: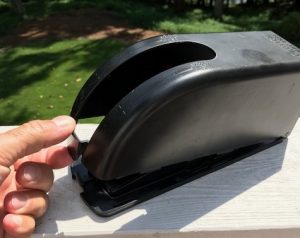 Once the trap cover releases, you can flip it up as it is hinged to the base.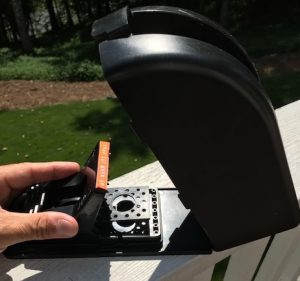 Place some PECAN PASTE, LOGANBERRY or SNAKE LURE in the holding cup of the trap just inside the trip paddle. This cup can be seen in the middle of the picture above. Order buttons for these are below and if you're targeting a vole, chipmunk or some other small animal they'll be required.
**BE SURE TO SCATTER MIXED SEED ON THE PASTE AND SOME TO EITHER SIDE SO THE TARGET ANIMAL WILL BE LURED TO PUSH THE PAN DOWN**
Next close the trap cover securely (you'll hear it snap into place) and set the trap by pulling down on the setting lever. This will require a firm pull "down" and once its pulled down enough, the trap jaw will lock into place and you'll see a red label show that reads "TRAP SET WHEN UP".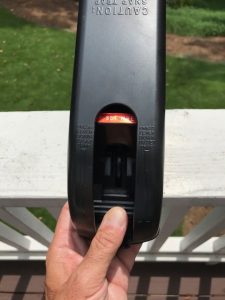 RELATED TRAP ACCESSORIES:     HERCULES PUTTY (HOLDS TRAPS IN PLACE ON ANY SURFACE)
LURES AND BAIT:       MIXED SEEDS      SNAKE LURE      LOGANBERRY PASTE       PECAN PASTE
RELATED TRAPS:     LIVE GREEN TRAP WIRE CONSTRUCTION 5x5x16        LIVE TRAP 3x3x10 GALVANIZED SHEET METAL
RELATED REPELLERS: ULTRA SOUND REPELLER (ABOVE GROUND) SOLAR POWERED GROUND STAKE REPELLER ODOR NEUTRALIZER
$12.00   (827122KIT)(FREE STANDARD SHIPPING)(3+ $10.00 ea)
Order online and save 5%



---
MIXED SEED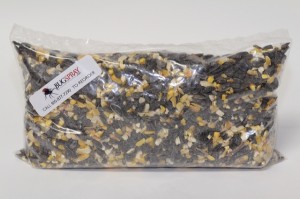 $3.00   (825298)
Order online and save 5%



---
PECAN PASTE

$15.00   (825325) 2 oz (3+ $12.00 ea)(Free Standard Shipping)
Order online and save 5%



$30.00   (825328) 8 oz (3-5 $27.00 ea)(6+ $25.00 ea)(Free Standard Shipping)
Order online and save 5%



---
SNAKE LURE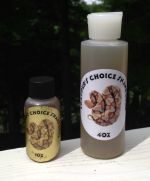 $18.00  1 oz jar (825374) (Free Standard Shipping)
Order online and save 5%





$40.00  4 oz jar (825376) (Free Standard Shipping)
Order online and save 5%



---
REPLACEMENT TRAPS ONLY (NO COVER)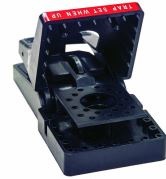 $5.00   (827122)
Order online and save 5%



TRAP SET ALONG FOUNDATION WALL