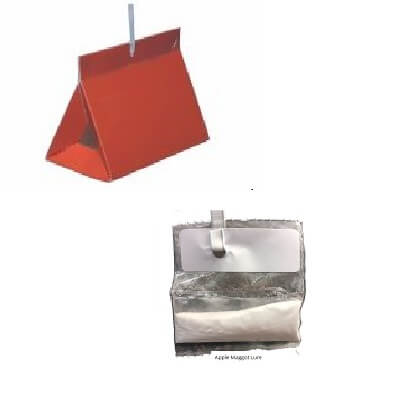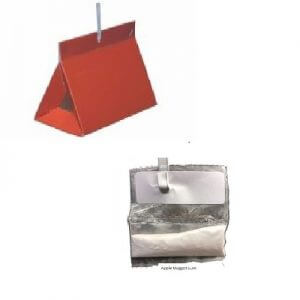 PRODUCT DESCRIPTION:   Large weather resistant glueboard trap designed to be hung on apple trees to attract adult apple maggot flies looking for a mate. Included is one pheromone and one trap per set. Each trap measures 8″ long, 4″ wide and about 4″ tall.
WHERE TO USE IT:  Though generally used on apple trees, this trap can be set on any type of berry or fruit plant or tree which might be targeted by apple maggots. Since there are many species of apple maggots that have learned to live off fruit other than just apples, the use of this lure should be considered when growing anything that might produce sweet produce or fruit in areas where apple maggots are active.
RATE OF APPLICATION: At least one trap per 1/4 acre is generally adequate. The scented lure will remain active for 30-60 days; the glue will remain active for at least as long.
$12.00  1 Glue Trap and 1 Lure(749235)(3+ $10.00 ea)
Order online and save 5%