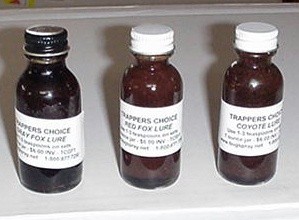 PRODUCT DESCRIPTION: Lure which is used on and around sets to stimulate and attract fox and coyote.
WHERE TO USE IT: On or around traps – depending on the set.
RATE OF APPLICATION: A one ounce jar is usually enough for 3-5 sets. Be sure to get the one for your target animal.
$8.00   (825260) 1 oz
Order online and save 5%



$20.00   (825263) 4 oz
Order online and save 5%