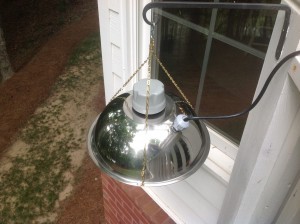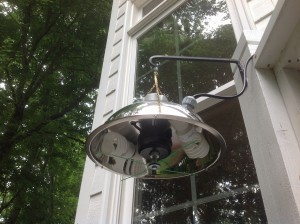 PRODUCT DESCRIPTION:   Dome shaped light fixture which has a motor and weed whacker type line that kills insects when they fly toward the light. It comes with a "photo sensor" so it only runs when its dark out.
Hang this light outside on patios, porches, decks or just in the yard to control flying insects that are attracted to light.
These can also be hung on boat docks at any pond or lake and will provide all natural food for the local fish.
The trap comes with everything you need including the two light bulbs seen in the picture to the right. These are low voltage bulbs (23 watts) so their energy consumption is low. But they attract a wide range of moths, beetles, european hornets, toe biters (giant water bugs) and more.
Basically the rotating line will "chop" up any insect that comes close. The fan has four arms to which heavy monofilament is attached – much like a weed whacker. This line is thick and will last forever but may require some cleaning 1-2 a year depending on how many insect pests you kill during the warm season. The dead insects can either be collected for cleanup or the light can be positioned over an area where the bugs can be left for "mulching".
WHERE TO USE IT:   This trap does require 110 volts so you'll need a power outlet close to the install (standard outlet for plug in). Common locations where they may be deployed include decks, patios, alongside a doorway, garages, picnic areas, camp grounds, boat docks, gazebos and just about any place outside where flying insects are a problem during the night because they are attracted to light.
RATE OF APPLICATION: One trap per 1/2 acre. Comes with a 2 year warranty.
$349.00.00   (822751)
Order online and save 5%