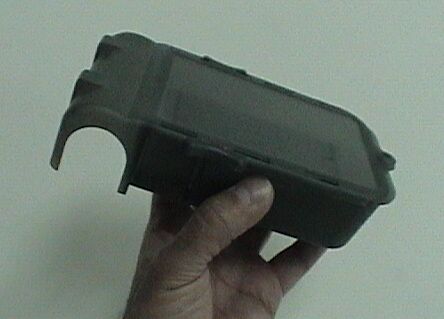 TRAP DESCRIPTION:4.25″ x 7.25″ x 1.75″  This is a small translucent gray repeating mouse trap that will hold up to five mice. This can be placed in tight areas were none of the larger repeaters will fit. This trap is good for Mice however this will NOT work for Rats.
WHERE TO USE IT: In and around businesses and homes away from pets and children. Although not dangerous to pets and children, keep it out of their reach. Use it second to the Tin Cat or Mouse Master only if the Mouse Master is too large to set up where activity is highest.
RATE OF APPLICATION: As many as needed. Trap can hold up to 5 mouse at a time.
OTHER MOUSE AND RAT KILL TRAPS:       MOUSE TRAP METAL TRIGGER      MOUSE TRAP EXPANDED TRIGGER       RAT TRAP METAL TRIGGER       RAT TRAP EXPANDED TRIGGER       SNAP-E RAT TRAP       T-REX RAT TRAP 
MOUSE AND RAT LIVE TRAPS:       KWICK KATCH MOUSE TRAP       MOUSE MASTER       TIN CAT      LIVE MOUSE CATCHER       LIVE TRAP 3X3X10       LIVE TRAP 5X5X18
RELATED TRAP ACCESSORIES:       METAL TRAP COVER (USE WITH KILL MOUSE AND RAT TRAPS)       HERCULES PUTTY (HOLDS TRAPS IN PLACE ON ANY SURFACE)
LURES AND BAIT:       MIXED SEEDS       LOGANBERRY PASTE       PECAN PASTE
** THIS TRAP IS DISCONTINUED AND NO LONGER AVAILABLE. CHOOSE ONE OF THE ALTERNATE MODELS – LINKS ABOVE **