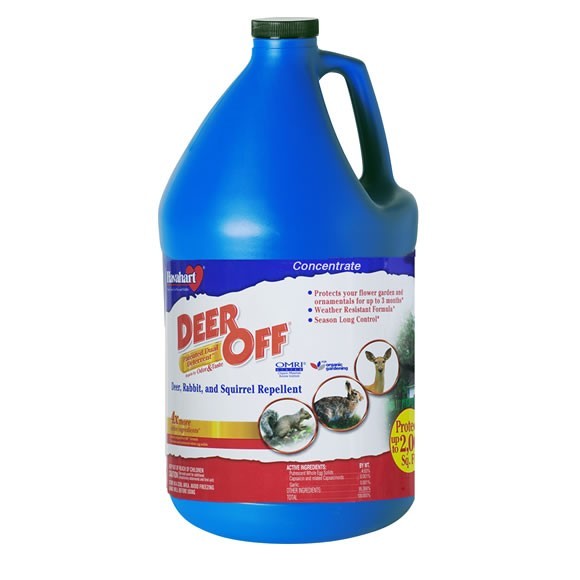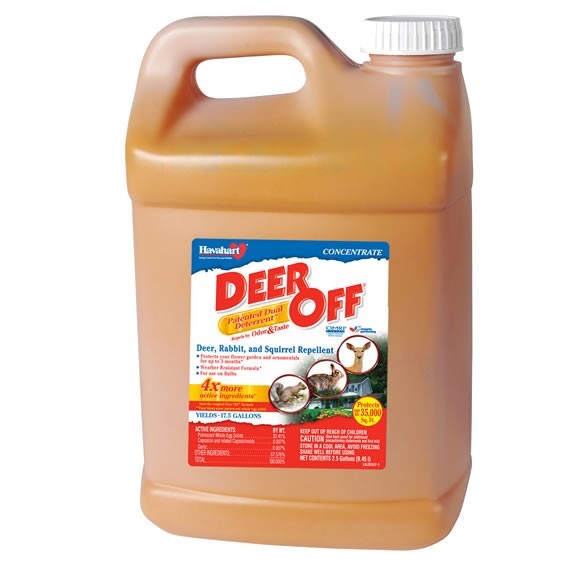 PRODUCT DESCRIPTION:   A bad tasting concentrate that must be mixed with water used to repel unwanted deer, rabbits and squirrels. Great for large areas, Deer Off will protect bushes, plants, flowers and other vegetation found throughout the yard.
WHERE TO USE IT:     Shrubs, flowers, ornamentals and plant bulbs. Patented Dual Deterrent System provides odor and taste barriers to repel deer, rabbits, tree squirrels, and other animals from browsing and feeding upon flowers, grass, bulbs, shrubs, plants, seedlings, and trees. Weather-resistant formula provides effective control. Reapply DEER-OFF Deer Repellent Concentrate every 2 to 3 months or more often during periods when rain occurs.
RATE OF APPLICATION:    1 gallon of concentrate will make 8 finished gallons of spray when mixed at the rate of 16 oz per 112 oz of water and cover 1600 sq/ft of shrubs 4 feet tall. When treating grass, you'll get around 3,000 sq/ft of coverage per mixed gallon.
2.5 Gallon Pails will make 20 gallons of spray and cover 32,000 sq/ft of shrubs with an average height of 4 feet or 60,000 sq/ft of flat turf.
RELATED PRODUCT:     DEER OFF RTU (ready to use – not a concentrate)
RELATED PRODUCTS:          PUMP SPRAYER
PRODUCT DOCUMENTS:       SPECIMEN LABEL GALLONS        SPECIMEN LABEL 2.5 GALLON PAIL        MSDS SHEET GALLONS      MSDS SHEEET 2.5 GALLON PAIL
$150.00   (745161)
Order online and save 5%



$295.00   (745162)
Order online and save 5%


INTERNATIONAL CUSTOMERS ORDER HERE
Supporting Video