Good morning, we at the Greenock Cricket Club have a major problem with Corella Parrots destroying flags on bunting around our cricket pitch. As we will be installing a turf cricket pitch in mid January, we don't want these parrots destroying the new pitch and surrounding area's and equipment. To stop this problem, what can you advise us to do?
You have a couple of options. The first is to spray the flags and anything else you want to protect with a liquid repellent we carry called PEST RID. This food grade active won't be noticed by people but birds and other nuisance animals will avoid where its been applied.
Its not clear to me how much of an area you need to treat (how many flags or buntings, etc.) but one quart (approx a liter) can cover up to 125 sq/ft. One gallon can cover up to 500 sq/ft (46 sq/meters). Treatments will remain active for at least 30 days and the product can be applied using any standard pump sprayer.
Pest Rid won't harm people or animals but it does repel nuisance animals and should work well. Here in the states we use it for a wide range of problematic animals including woodpeckers, pigeons and starlings. We sell it in quarts and gallons.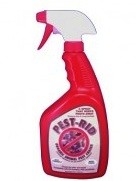 Pest Rid Spray: https://inter.bugspraycart.com/exempt/liquid/pest-rid-exempt-liquid-repellent
Another option is to install an ULTRA SOUND BIRD REPELLER. These would have to be turned on and kept running when the field is unattended. We have them in both 110 and 220 volts. They come with 5 detachable speakers which can be situated to protect active "zones" where the birds are a problem. The total area one device can handle is up to 3600 sq/ft which is around 335 sq/meters (approx 67 sq/meters per speaker). More information on this device can be found here: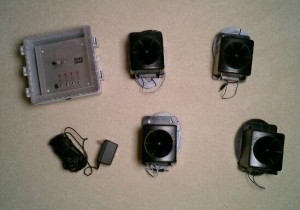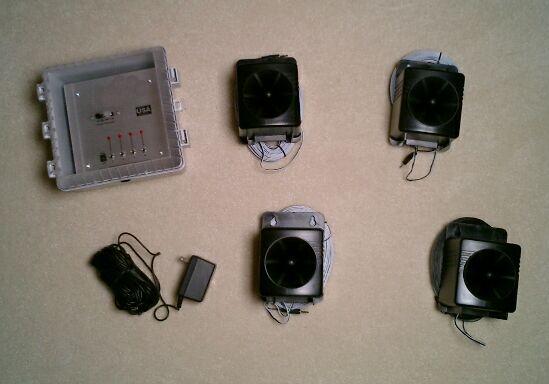 Ultrason 4S: https://inter.bugspraycart.com/repellents/sound/usd-bird-rep-4-s
The links above will bring you to our international shopping cart since I'm assuming you're somewhere abroad, correct? If not, you can use our cart for orders shipping here in the states.
Pest Rid Spray: https://bugspray.com/exempt/liquid/pest-rid-exempt-liquid-repellent
Ultrason 4S: https://bugspray.com/repellents/sound/usd-bird-rep-4-s
Cheers,
Jonathan
Customer Care
U-Spray Bugspray
www.bugspray.com
Toll Free: 1-800-877-7290
Direct Line: 770-985-9388