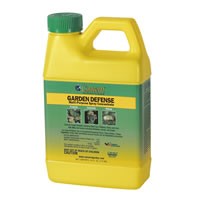 PRODUCT DESCRIPTION: 24 fl. oz. concentrate. Made from extract of Neem Oil (70%). Controls fungal diseases including black spot, mildews, rust, and scab.  Kills mites and insects include whiteflies, aphids and scales.  OMRI Listed® and compliant for use in organic gardening. Kills eggs, larvae, and adult insects. Prevents and controls black spot on roses, anthracnose, rust and powdery mildew. Stops powdery mildew in 24 hours
As with other oil-based products, exercise care in timing applications to early morning/late evening to minimize potential for leaf burns. Do not apply to wilted or otherwise stressed plants, or to newly transplanted materials or crops prior to root establishments. Do not apply to known sensitive plant species, such as impatiens flowers, fuchsia flowers, hibiscus flowers, some rose flowers, ornamental olive trees, or some carnation varieties without prior testing. For optimal performance, do not mix with cold water (less than 45°F). Do not add adjuvants (spreaders, stickers, extenders, etc.) to Garden Defense Concentrate. For best results, maintain constant agitation in spray equipment. Use spray solutions within several hours of preparation for maximum effectiveness. Do not store diluted solution for later use.
WHERE TO USE IT: For INDOOR AND OUTDOOR  use on FRUITS, NUTS, VEGETABLES, HERBS, SPICES, ROSES, HOUSEPLANTS, FLOWERS, TREES, and SHRUBS
RATE OF APPLICATION: Mix Garden Defense Concentrate at the rate of 2 tablespoons (1 fl. oz.) per gallon of water. Thoroughly mix solution and spray all plant surfaces (including undersides of leaves) until completely wet. Frequently mix solution as you spray.
RELATED PRODUCTS:          PUMP SPRAYER
PRODUCT DOCUMENTS:       SPECIMEN LABEL       MSDS SHEET
*** THIS PRODUCT HAS BEEN DISCONTINUED AND IS NO LONGER AVAILABLE ***
ALTERNATE OPTIONS:       MULTIPURPOSE INSECT KILLER        INSECTICIDAL SOAP       3-IN-ONE INSECTICIDE FUNGICIDE