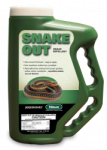 PRODUCT DESCRIPTION: The unique blend of ingredients in this product trigger escape and avoidance behavior in snakes. Snakes actually taste the air around them (via a receptor organ known as the Jacobson's organ). This product provides a powerful scent and taste odor snakes find unpleasant. This triggers a natural reaction to escape and avoid the area. Treatments will not harm snakes; it simply deters them from hanging around.
WHERE TO USE IT: For use outside. Apply it to create an invisible "fence" by using it along property borders.
RATE OF APPLICATION: Using the convenient dispenser cap on this package, lightly sprinkle a band 6 to 8 inches wide. Do this along property borders.
One pound will treat a band 8 inches wide by 50 feet in length. This means the 4 lb jar will "draw" a line up to 200 feet long. Do not water in after application. Reapply product after heavy rains or every two weeks to obtain best results.
PRODUCT DOCUMENTS:        SPECIMEN LABEL        MSDS SHEET
$30.00   (743492) 4 lbs
Order online and save 5%



Supporting Video
INTERNATIONAL CUSTOMERS ORDER HERE