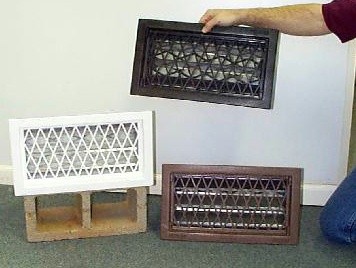 PRODUCT DESCRIPTION: Available in Black, Grey, White or Brown these are automatic vents which open and close to control air flow in crawl spaces. They come with a lifetime warranty and will open and close so you don't have to worry about doing it every change of the season. Keep in mind these are the "real" Temp Vents, not the "knock off" copies found at any big box retail store. The difference is these come with a lifetime warranty and won't rot; the big box versions will cost less but will degrade and break after a few yrs.
WHERE TO USE IT: Any crawl space. Simply fit it into the space where the old one was or knock out a cinder block and fit vent into space. They measure 8 inches tall and 16 inches wide and have a 1 inch frame that goes around the outside to cover any gaps that might be present when mounted. Each one comes with mounting hardware to provide a snug fit.
HOW THEY WORK:  There is a built in coil spring which contracts as the temperatures decrease; once 40 or below, the vents will usually be completely closed. From 40-55 they will be opening and in general, above 60 degrees, they will be all the way open.
RATE OF APPLICATION: As many as is needed which is usually one for every 10 feet of foundation wall in the space that is being ventilated. Other colors are available including BROWN and WHITE.

$60.00 EA   (Color: Black) (288064)(6+ $53.00 ea)
Order online and save 5%