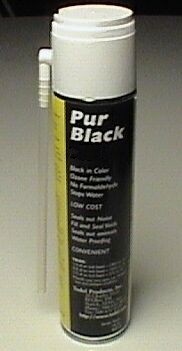 PRODUCT DESCRIPTION: Expanding black foam which can be painted. Designed for filling spaces, gaps, cracks and crevices on most any structure, this professional caulking compound is as good as it gets. It even seals holes where rodents maybe entering your home. Supplied with an attached straw, it dispenses a 3/8″ bead 1025 ft long. It will dry tack free in just 20 minutes and cures in 24 hrs.
The larger 25 oz can (must be used in one of the dispensing guns) will disperse a 3/8″ bead over 1500 linear feet.
WHERE TO USE IT: Inside or outside, this material is great for filling any space or void. It can be  sanded and painted so you can finish over treated surfaces for cosmetic purposes. It deadens sound, can keep out perimeter invaders like insects and animals and will help prevent mold/mildew and other moisture problems. Sealing will also help to stop air flow leaks which can cost a lot during cold or hot weather.
RATE OF APPLICATION: Coverage will vary from job to job. It's easy to underestimate just how deep voids or spaces may be so be sure to get enough. The 16 oz can comes with it's own injecting hose and is ready to use. The 25 oz can does not come with a hose and must be used with one of our Injection Guns.
TIPS ON "HOW TO BEST USE FOAM SEALENT"
RELATED PRODUCTS:      PUR FOAM      GUN CLEANER      BASIC APPLICATOR      PRO APPLICATOR      PRO APPLICATOR X-TRA LONG      APPLICATOR TIPS      PLASTIC ADAPTORS      FLEXIBLE TUBING
$15.00   16 oz can (4+ cans $12.50 ea)(741036)(PICTURED ABOVE; COMES WITH TUBE APPLICATOR ATTACHED TO CAN AND IS READY TO USE)
Order online and save 5%



$25.00  25 oz (741037)(6+ $20.83) THIS SIZE NEEDS ONE OF THE FOLLOWING APPLICATORS:   BASIC GUN     PRO GUN      X-TRA LONG GUN
Order online and save 5%



$207.55 (12/25 oz cans)(741037CS12)(FREE SHIPPING)  THIS SIZE NEEDS ONE OF THE FOLLOWING APPLICATORS:   BASIC GUN     PRO GUN      X-TRA LONG GUN
Order online and save 5%