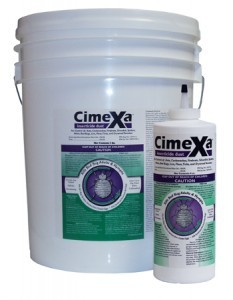 PRODUCT DESCRIPTIONS:   CimeXa™ Dust is the premier industry-leading insecticide for control of bedbugs and many other pests. Its engineered silica composition achieves rapid control while remaining viable for up to ten years when undisturbed. With its broad label usage, CimeXa™ Dust is a comprehensive asset for pest elimination to service professionals.
TARGET PESTS:   For control of bed bugs, fleas, ticks, lice, roaches, ants, firebrats, silverfish, spiders, mites and drywood termites.
FEATURES:   Kills bed bug adults, nymphs and nymphs hatched from dusted eggs – including pyrethroid-resistant bed bugs. The preferred treatment for brown recluse, yellow sac, hobo and other persistent spiders indoorsLabeled for treating cracks, crevices, voids, mattresses, carpets, pet rest areas, attics and many other areas. Odorless, non-staining desiccant structure will not absorb water vapor except in very high humidity conditions, preventing clumping and maintaining its active ability once applied. Easy to apply – can be used as a dust or mixed with water and sprayed. Low toxicity, engineered silica base exhibits exceptional absorption of water (in liquid form) and oil, which destroys the waxy cuticle of insects, resulting in rapid dehydration and death. Much better consistency and over three times faster compared to diatomaceous earth. Remains viable for up to 10 years when undisturbed. Should not be used in damp areas.
RATE OF APPLICATION:    Generally 2 oz will cover up to 100 sq/ft.
DOCUMENTS:     SPECIMEN LABEL      MSDS SHEET
$21.00  (4 oz jar) (801484)(FREE STANDARD SHIPPING)
Order online and save 5%


$175.00  (5 lb jar) (801486)
Order online and save 5%



Supporting Video