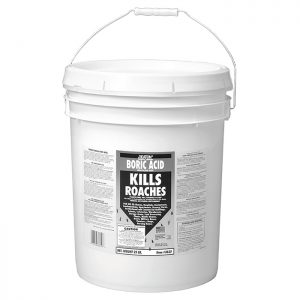 PRODUCT DESCRIPTION: White powder that resembles salt or talc powder. It is odorless and easy to clean up when misapplied or spilled. Ours has a 99% active ingredient of Orthoboric Acid.
TARGET PESTS: Ants, Palmetto Bugs, Silverfish and other pests.
WHERE TO USE IT: Just about any crack or crevice in the home. These areas include baseboards, moldings, wall voids, behind switch plate covers, attics and crawl spaces.
RATE OF APPLICATION: There is no specific amount to be used per square footage but a good rule to follow is 1 lb per 100 sq/ft.
PRODUCT DOCUMENTS:       SPECIMEN LABEL       MSDS SHEET
$75.00   (452811) 25 lbs
Order online and save 5%


Supporting Video