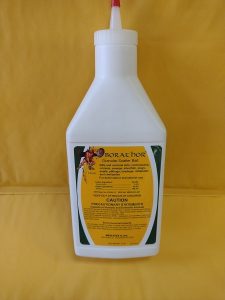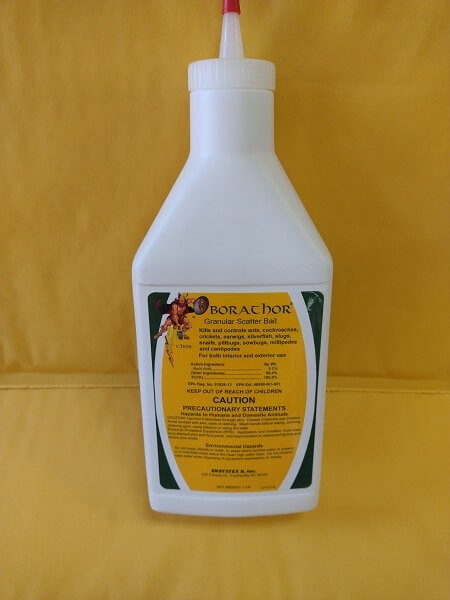 PRODUCT DESCRIPTION:   Small size granular (one like wheat germ and the smaller jug even finer for smaller pests) that can be safely applied in the yard to control a range of pests. Treatments will last 30-60 days unless consumed faster. The grain is filled with nutrients essential for insects so they'll readily feed on it and tend to "love it to death".
TARGET PESTS:   cockroaches, crickets, earwigs, silverfish, slugs, snails, pillbugs, sowbugs, millipedes and centipedes. Use the 4 lb size for outside applications and the "fine" sized granules in the 1 lb jug for inside applications.
WHERE TO USE IT:  Outside or inside the home.
RATE OF APPLICATION:  2 lbs per 1,000 sq/ft so the 4 lb size will cover up to 2,000 sq/ft; the 1 lb jug is enough for 1,000 sq/ft inside the home
Generally you should apply it in small amounts where target pests are active. 2-4 tablespoons per location spaced out every 5-10 feet around the homes perimeter. Treatments will be active 25-40 days and should be renewed as target pests reappear.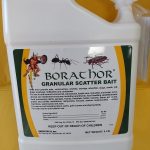 USE IN CONJUCTION WITH PROTHOR (SPRAY PROTHOR FIRST, WAIT A DAY AND THEN BAIT).
When used with PROTHOR , our special "non repellent" spray, the Prothor will not affect the baiting in any way since its not detectable by insects. Most all other sprays, fertilizers, fungicides, etc. will contaminate the bait so do not bait if you intend on spraying the yard with anything other than Prothor!
Try to treat a band around the home which is 5 to 10 feet out.
PRODUCT DOCUMENTS:       SPECIMEN LABEL       MSDS SHEET
$20.00   (734622) 1 lb
Order online and save 5%



$45.00   (734620) 4 lbs 
Order online and save 5%