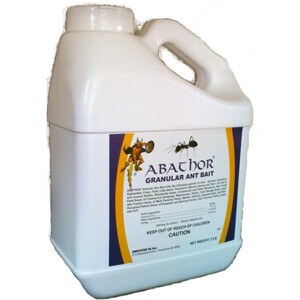 PRODUCT DESCRIPTION: Small granulated bait, much like wheat germ, that can be safely applied in the yard around the home to control ants but can also be used inside. The grain is flavored so ants love it to death!
TARGET PESTS: All species of ants but other pests will feed on it as well like palmetto bugs, crickets and silverfish.
WHERE TO USE IT: Outside or inside the home.
RATE OF APPLICATION: One Pound will treat 1 acre so the 8 oz "bag" will cover about 20,000 sq/ft when used properly.
Generally you should apply it in small amounts spaced out every 5-10 feet around the homes perimeter or out in mulch or other areas of the yard where ant mounds or trails are seen. Treatments will be active 25-40 days and should be renewed as ants are seen.
Use in conjunction to general yard treatments will PROTHOR to get the best, longest lasting results. Once the ants are gone, expect to retreat every 2-3 months. Try to treat a band around the home which is 5 to 10 feet out.
PRODUCT DOCUMENTS:       SPECIMEN LABEL       MSDS SHEET
$25.00   (720089) 8 oz
Order online and save 5%



$65.00   (720090) 2 lbs 
Order online and save 5%