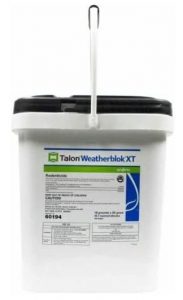 PRODUCT DESCRIPTION: For an optimal level of both palatability and weatherability, there's Weatherblok® XT. These outdoor bait blocks contain the advantages of Talon-G, in a formulation that withstands the elements-even in damp places where the competition falls apart. It also has a unique shape, which allows for high density baiting and features gnawing edges that entice rodents to consume a lethal dose.
* Low-dose, single feed anticoagulant
* Highly weatherable, works even in extremely damp locations such as sewers and drains
* Durable without sacrificing any palatability
* Contains Bitrex® human taste deterrent
* Designed to fit more blocks on baiting rods than any of the competition
TARGET PESTS: House Mice, Roof Rats, Norway Rats
WHERE TO USE IT: Determine areas where rats and/or mice will most likely find and consume bait. Remove as many other rodent food sources as possible. For the safety of others, Weatherblok XT should always be applied out of reach by children, domestic animals and non-target wildlife, or in tamper-resistant bait stations such as the Multiplex Station.
RATE OF APPLICATION: Apply as needed until rodent activity subsides.  Tamper proof bait stations filled with bait can be used to prevent future infestations.
RELATED PRODUCTS:        MOUSE T1 PRE-BAITED STATIONS       RAT T1 PRE-BAITED STATIONS       TOP GUN BAIT BLOCKS 4 LB PAIL       TOP GUN PLACE PACKS 128 PACK PAIL
PRODUCT DOCUMENTS:       SPECIMEN LABEL       MSDS SHEET
$100.00  16 lb Pail (151169)
Order online and save 5%