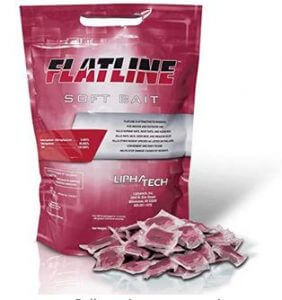 PRODUCT DESCRIPTION:
Flat Line soft bait is sectioned in 1 oz pieces so you get about 64 pieces. Flat Line provides maximum rodent acceptance in a soft, easy to chew bait block rodenticide.
Place Flat Line blocks on vertical or horizontal rods in tamper proof bait stations like our BLACK RAT BAIT STATIONS.
Place BootHill paraffin blocks between the rodents nest and/or feed and water supply.
Maintain a consistent supply of Flat Line blocks until rodent feeding stops.
TARGET PESTS: Rats and Mice
WHERE TO USE IT:  Should be used inside of Tamper Proof Rodent Bait Stations.  Place stations in areas where rodents frequent.
RATE OF APPLICATION: For rats place one station every 25 feet along foundation walls, fences or similar barrier.
PRODUCT DOCUMENTS:       SPECIMEN LABEL       MSDS SHEET