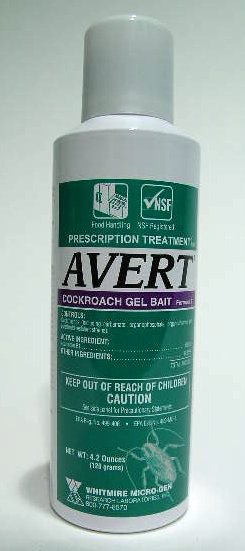 PRODUCT DESCRIPTION: Light brown gel like material which comes in a pressurized can. The straw tube enables you to apply into cracks, crevices, voids and other areas where roaches are likely to be hiding.
TARGET PESTS: Roaches.
*** AVERT AEROSOL IS DISCONTINUED AND REPLACED BY AVERT GRANULES ***
AVERT GRANULES PT-310

PRODUCT DESCRIPTION: Very fine light brown or tan like dust which is actually a food based bait which roaches love. Odorless and light, it should be used in protected areas and voids.
WHERE TO USE IT: Try to use this product in voids since it gets contaminated easily. Apply it to the spaces between cabinets and walls, behind switch plate covers and light fixtures and in spaces that are both dry and likely to attract roaches.
RATE OF APPLICATION: Try to get 12-24 bait placements per 100 sq/ft. Each tube has approximately 200 placements.
PRODUCT DOCUMENTS:       SPECIMEN LABEL       MSDS SHEET
$35.00   (153458)
Order online and save 5%