Flying squirrels are divided into two species – the Northern and the Southern. The line dividing the two is somewhere in the northern part of the country around Pennsylvania and across to the Great Lake States. Above this line is where the Northern species resides – all through Canada – and then back down again into California an several other northwestern states. Ever seen one? If not, view this short video that shows one clearly.



Related articles:        BATS        MICE        RACCOON        RATS        SQUIRRELS
WHY ARE FLYING SQUIRRELS A PROBLEM *
Although most flying squirrels are welcomed in parks and around the yard, they are a pest once inside your home. As wooded lots are cleared, flying squirrels are displaced from their natural habitat and forced to find new homes. If conditions are right, they will move into attics, eaves and soffits of any structure. Once inside the structure, they will cause damage to insulation, rafters and electric wires. The same thing is happening with flying squirrels.
Flying squirrels are much smaller than tree squirrels and most people have never seen one in the wild. They are nocturnal. They're also agile and can enter a structure through the smallest crack or hole. Once inside a structure, they too can cause damage to insulation, wood and electric wires. In fact, this problem has caused most insurance companies to add disclaimers about fires caused by flying squirrels. In general, they will not pay on damage caused by flying squirrels. This includes damage to the home as well as fires which are started by the chewing animals! This disclaimer is written into every homeowner insurance policy the author has seen in recent years. If your policy does not cover damages due to rodents, don't take an infestation lightly!
FLYING SQUIRRELS LOVE BIRD SEED *
Be careful of bird feeders. People love to watch birds and a properly placed bird feeder adds so much to any landscape. But it also calls the local squirrels to your property. Over time these squirrels will learn where the food is coming from and soon they will want to move into your home. Well it turns out that flying squirrels will behave in the same way. The only difference is they are active at night so you do not know anything is happening.
We're not saying you can't keep bird feeders in the yard; we're just saying that if you do, the odds go up that will attract gray squirrels, rats and flying squirrels which puts you in jeopardy of having them get into your home.
FLYING SQUIRRELS NEED TREES AND SHRUBS *
Make sure you cut away all tree branches and tall shrubs hanging close or over your buildings. Any tree, bush or shrub too close to your building is a route of entry and needs to be cut back. Small shrubs and bushes are not bad but tree limbs which hang over or within twenty feet of your roof is a definite route of entry. Flying squirrels will use this route as a way to get onto your roof. Once on the roof these rodents will discover a way into your attic.
HOW DO FLYING SQUIRRELS GET INTO ATTICS? *
Flying squirrels require very little space to gain access to attics. Their bodies are constructed with soft, cartilage like bones which are soft and pliable. This means they can easily push through holes as small as a quarter. For this reason most any home will have access points around fascia boards where gutters mount. Typically there is a gap above the fascia board and the asphalt shingles above and this space will be more than enough to let them inside.
To help keep them out, install gutter guards and make sure they can't enter by climbing up behind the gutter. Remember too that they can reach it by "flying" from trees which are over 100 feet away. So even if you remove direct pathways like low lying tree limbs, they won't move elsewhere until their entry ports have been properly sealed.
HOW CAN YOU TELL IF YOU HAVE FLYING SQUIRRELS IN YOUR ATTIC? *
Once inside your structure, flying squirrels will make a lot of noise. These noises may be in the attic or walls. Try to inspect the areas where you hear the sound. In general, you'll need to first identify the intruder before take action.
If the noise occurs at night, the animal is probably nocturnal. Flying squirrels make a lot of noise and you will hear them anytime between sunset and sunrise. Flying squirrels will also avoid people at all costs. They will burrow into insulation and generally do not want you to see them so there is no need to be afraid of them.
Another good clue will be if you find their droppings. Tree squirrels (common gray squirrels) and roof rats will leave droppings anywhere; flying squirrels have a designated place where these droppings will accumulate. If you are finding droppings all over the attic but you only hear noise during the night, you most like have mice or roof rats. Conversely, if you hear noise during the day and are finding droppings everywhere, you probably have a gray squirrel active in the space.
HOW TO CONTROL A FLYING SQUIRREL PROBLEM *
Once the animal is properly identified, it needs to be removed. Don't waste your time with glueboards or snap traps. You may get lucky and catch one or two with such a device, but flying squirrels don't forage much so its hard to get them onto these devices.
Furthermore, once surviving flyers see their friends and family trapped or killed, they will quickly learn to ignore the offering.
Also, there is no type of rodenticide labeled for flying squirrels and even if there was, you'd be risking all kinds of related problems from squirrels that ingest the bait.
WHAT'S THE BEST WAY TO CONTROL FLYING SQUIRRELS? *
There are two ways to control an active flying squirrel problem. The first way is to use a live trap; the second is a kill trap. Both live trapping and kill trapping are effective. Kill trapping eliminates the need of having to relocate the animal which saves time; live trapping is more humane but means you will have to take the squirrel at least 10 miles away to insure it won't return.
Live trapping is easier to do and easier on the conscience; kill trapping is preferred by people who have been fighting flying squirrels for a long time and have no problems destroying the animals which are causing damage to their home! Regardless if which you choose, either method is effective and the following text will describe in great detail what tools you will need to do the job and how to go about getting the results you want.
THE BEST FLYING SQUIRREL BAIT *
Since flying squirrels don't naturally want to forage far once they enter your attic, its important to use the right lure to make your trap sets effective. We have learned the following three components will get the job done.
The first key is trap placement. So to trap flying squirrels, you must place the trap where they are active. This will be where you see their droppings or where you see tunnels and burrows throughout the insulation.
The best bait for any trap is our TRAPPERS CHOICE PECAN PASTE and  MIXED BIRD SEED scattered lightly around the traps entrance and then a more concentrated amount in the back of the trap. Use both a teaspoon of Trappers Choice Pecan placed on the trip pan of the trap and at least 8 ounces of sunflower seeds to insure a quick catch. Furthermore, if they are active in trey ceiling areas or other "tight" spots in your attic, getting your trap close enough for successful catches could prove hard to do.
The 2 oz jar is enough for 8-12 sets; the 8 oz for 30-40 sets.

Any mixed bird seed will work; our bags are enough for 3-4 sets.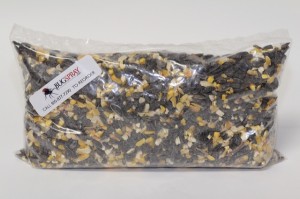 Since flying squirrels don't like foraging around in attics, it can sometimes be a challenge to get your trap close enough to where they are nesting or most active. If this is the case in your attic, the use NITE FLYER could help. This oil based attractant works as a "trailing" scent and is used by placing 1 drop every 1-2 feet leading from where the flying squirrels are most active to where the trap is being set. Nite Flyer was designed for flying squirrels to help get them to find live trap sets that much faster. There is no need to over apply it so limit amounts to one drop at a time. However, the further back into hidden and inaccessible areas you can get some applied, the better "trail" you will create. Ultimately, this will allow you to trap unwanted animals that much faster and is particularly helpful for any nocturnal animal like flying squirrels.
Place one drop every foot from their nest site to your trap entrance.
BEST FLYING SQUIRREL TRAPS *
Now that you have a good idea of where you need to place your trap and you know what type of lure to use in it, let's discuss trap options. There are plenty of live traps available on the market today but many are not good quality or designed to "keep what they catch". Flying squirrels can fit through the tiniest of spaces and will easily escape from a 1″ by 1″ hole. For this reason, you must employ a trap with wire spacing that does not exceed 1/2″ x 1″ if flying squirrels are your main target.
To ensure success, go with the professional grade LT5518 or LT5518RD model. These measure 5″ by 5″ for their entry and 18″ long. These traps utilize a heavy gauge 1/2″ by 1″ wire that will last many years and can easily handle other animals like rats, chipmunks and gray squirrels too. The standard LT5518 will do a fine job but the LT5518RD features a sliding rear door that makes trap sets and animal release super easy.
MULTIPLE CATCH FLYING SQUIRREL TRAPS *
When dealing with big flying squirrel problems, the use of a multi catch trap help can save time. Known as "repeaters", these traps can hold several squirrels at one time. They feature one way doors with two holding areas. Animals enter the first door and cannot escape. Typically they'll forage around in this holding area until they find the second door which opens to the second holding area.
Once they enter the rear section of the trap, there is no way to escape. These traps are made with the same 1/2″ by 1″ wire used for the LT5518 traps above which means they'll work well for flying squirrels. The 3.5×3.5×24 REPEATER is the preferred size and can hold 3-5 adult squirrels no problem. It features a rear sliding door too that makes animal release easy once caught. This is a true professional trap made of high quality components and will last a long time.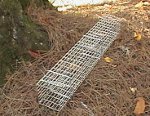 FLYING SQUIRREL REPEATING EXCLUDER TRAPS *
As the name implies, these unique traps are for special applications where you need to both exclude and catch nuisance animals. Designed to be set directly over the entry holes target flying squirrels are using, these traps will funnel exiting animals into a three sectioned compartment. You can only employ this trap if you know the location of entry holes and then only if this location will allow you to get the trap properly mounted. Made of 1/2″ by 1″ wire, they will hold flying squirrels.
The 3.5×3.5×31 RE-EX uses the same wire as the traps above and can withstand any weathering from being used outside. What's great about these traps is that target animals are both excluded and caught by the same device. This means you'll know for sure when all the animals inside have been caught. Furthermore, you won't have to worry about any coming back inside – the trap serves as a "cap" over the hole when in place. Remember, this design is only designed to be used over entry holes and it's important to get one installed over each hole being used.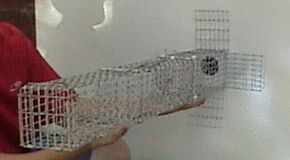 LIVE TRAPPING TIPS FOR FLYING SQUIRRELS *
Here are a few tips for successful trapping.
Do not inspect the traps more than once a day unless you know something has been caught. Flying squirrels are great observers and if you are seen in their attic space over and over, you will spook them into being very wary of this new device which is suddenly available in their territory and attracting attention from humans.
Be sure to use a teaspoon of our TRAPPERS CHOICE PECAN PASTE. This blend of nuts and oils has an aroma which will last for days. Place a tablespoon on the trip pan of your trap and smear it over the pan evenly. Next, add MIXED BIRD SEED behind the trip pan as a visual aid. When flying squirrels make their way to the trap they expect to see a lot of seed due to the strong smell. Remember, the seed is the effective "payoff" so you need to use a lot to get them inside. In other words, 5 or 10 seeds behind the trip pan will not be enough; their must be a pot of gold waiting for them to make trap entry worth the risk.
Place most of the bait behind the trip pan, but be sure to place some seeds in front of the trap and leading in the door. This will allow them to follow the "trail" and find the entrance which can sometimes be missed. And be sure to use TRAILING SCENT if the trap is more than 5 feet away from their nest site or dropping spot.
When using these traps where you suspect there is more than one animal active, use two bait placements. Do this by placing the recommended amount of seed behind the trip pan but then add 1/4 of that amount in front of the trip pan. This bait placement will enable you to lure more than one animal in at a time since the first one that enters will stop to feed on the front placement and subsequent animals entering while the first animal is feeding will move to the back of the trap causing it to trip.
If relocating trapped animals, make sure to take them at least 10 miles away. The author has had flying squirrels return up to 7 miles and expects they can find their way back further if given the chance. To prevent this from happening, do not let them go closer than 10 miles from where you caught them. And be sure you measure this distance in a straight line over air – not how far you drive.
Flying squirrels need to be trapped in the attic. Look for areas in the insulation where you can see a lot of activity. Such areas will have tunnels and nests which look like piles.
Since flying squirrels prefer to leave their droppings in one main area, this is a great place to trap them. Chimney areas are a common place for such activity as are voids behind trey ceilings. These areas can be hard to reach but can prove critical for your success!
Wait at least a two weeks (without hearing any sound) before you close entry holes you suspect are allowing the animals to get inside. If you close the holes too soon, the trapped animal may react violently and at least will certainly chew another hole.
Established flying squirrels consider your home their home and if you close any holes you will only force them to chew it back open or create new holes. Routes of entry allow you to know where to make successful trap sets so use them to your advantage.
KILL TRAPS FOR FLYING SQUIRRELS *
Though the use of kill traps seem inhumane and mean, many professionals use these devices for quick control of an ongoing flying squirrel problem and you can use these methods too. The use of such devices will help reduce the amount of time needed to control large populations since you won't be driving elsewhere to relocate trapped animals.
When kill trapping, there are two primary devices. The most traditional is the BODYGRIP 55 which is a body crushing type trap. These traps have been around for many years and are readily used by animal wildlife control officers as well as fur trappers. These traps work by crushing the target animal on it's head or body leading to a instant and painless kill. Trap placement is critical and in general, must be made at the entrance/exit hole using a WINDOW MOUNT.
Each trap measures 3.5″ by 4″ and you'll need one trap per hole.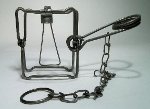 To make the set, use a window mount. Watch the video on our product page to learn how to make the set using this trap holder.
WHERE TO USE BODY GRIP TRAPS FOR FLYING SQUIRRELS *
The most effective set for a body grip trap is just outside the entrance/exit hole leading into the structure. If you know where the animals are entering, simply place the trap outside the hole. The best set will have the dog (part of the trap) and trigger on the top of the trap and still have enough play so as to not restrict the trap when collapsing. To create space, you may need to mount the trap on a small piece of 2×4 or some other piece of wood.
The big advantage of using this trap is that flying squirrels will readily move through it as if it wasn't even there. A quick reset of the trap means you now are ready for any more animals still active.
This type of set can be used over air vents, around chimneys, over gable vents and even dryer vents.
BEST FLYING SQUIRREL KILL TRAP FOR INSIDE ATTIC SPACES *
For attic spaces, an ELECTRIC ZAPPER is a fast and efficient way to kill small animals like flying squirrels. Originally designed for mice and rats, these devices are now built with enough power to kill gray squirrels and work well on flyers too. Powered by batteries, you can set them up in places where live traps would be deployed in attic spaces. Just be sure to bait them with the PECAN PASTE and MIXED BIRD SEED listed above.  And if you have to place them more than 5 feet from a known nest site, use some TRAILING SCENT too.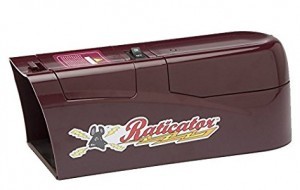 WHAT ABOUT REPELLING FLYING SQUIRRELS? *
In general, its always best to remove nesting animals from your home before using a repellent. And since flying squirrels can find and use remote locations in hard to reach areas, ultra sound has not proven effective for these closed areas.
But we have another device which makes a more audible sound which can be heard throughout the space. This sound won't penetrate wall voids so a unit placed in the attic won't be heard below in the living spaces. But it is strong enough to cover large areas of attic space and in doing so, make it unlivable for small animals like flying squirrels.
The key is to get it placed as close as possible to their nests. And you'll want to keep it running continuously for at least 2 weeks straight to ensure they leave for good. But setting up SONIC SOUND REPELLERS. can effectively chase away active animals and keep them out.
Use one unit per 1,000 sq/ft of attic space and plan on keeping them on continuously for at least 2 weeks. After the animals leave, you can set them on timers to run from 6:00 PM until 6:00 AM. They cost less than $.50 a month to run and during the fall and winter months, can keep attic spaces free from flying squirrels, gray squirrels and rats.
Sonic Sound Repellers are designed for use inside structures and are not built for use outside. But the YARD GARD is weatherproof and for wide open areas, it can blanket with sound keeping flying squirrels off the home and away so they won't even try to enter.
You'll need to position units just outside the home pointing up at areas where flying squirrels are entering. Each unit is the size of an accent light fixture and can be set on the ground angled up. By blanketing every side of your home with sound, you can effectively make it very uncomfortable for them to come around your home.
Flying squirrels are particularly sensitive to these devices and cannot tolerate the sound at all. They come with AC power converters and will need to be turned to their "always on" setting when set outside. But since flying squirrels are only active when its dark, run them from 4:00 PM until 7:00 AM on a timer and you'll have plenty of protection in place.
ONCE THE FLYING SQUIRRELS ARE GONE, SEAL ENTRY HOLES *
Once the nesting animals have been removed or repelled using sound devices, you can move forward to protect your home from further invasions by sealing up entry holes. And though the use of wood and other building supplies may be needed to do closure, COPPER WOOL is very easy to use and works great for a quick fix of gaps and entry points. It's easy to work with and can be stuffed into openings without a lot of effort. It won't rust or break down for a long time and is extremely effective when you need to seal a lot of small openings which surround the average attic.
Packed in 50 foot rolls, use this to seal the gap behind gutters, under roof shingles where they overhang or gaps where the chimney attaches to the home. It can also be used where conduit or wiring pass through the homes exterior so use it to seal holes from the ground level up to the roof.
FOR LARGE GAPS US SEALING FOAM ON TOP OF COPPER WOOL *
To get the most permanent seal possible, seal up the Copper Wools with BLACK FOAM is also recommended. This product expands when applied and will permanently seal most any gap, crack or void making it near to impossible for small animals to enter.
Pur foam comes in two sizes. The small can comes with an attached injecting hose and is well suited for a gap 3/8″ wide up to 1,000 linear feet.
But for bigger gaps and jobs, get the larger can which can fill 1500+ linear feet and is easier to apply using a foam gun (listed below).


So for the large can of foam, get either the PUR STANDARD GUN or PUR 24″ GUN. These professional tools work like a caulking gun but are easier to use since they rely on the aerosol of the foam can to push out the sealant.
For longer reach, get the 24″ Foam Gun.
In general, flying squirrels don't like to gnaw their way into attic spaces but if you discover a lot of chewed wood on your home, you'll be better served using the PUR FOAM W/REPELLENT cartridge. This formulation will expand more and includes a strong bad tasting "pepper" ingredient providing extra protection – especially from chewing and gnawing animals.
Lastly, which ever cartridge you get, you'll need some GUN CLEANER to keep the gun free from clogs by using it in the gun before putting it up in storage.
WHENEVER POSIBLE, REMOVE FLYING SQUIRREL SCENT *
Since flying squirrels rely on scent to mark good nest sites, once your home gets activity it will be "marked" as a good place to live for years to come. Females that have been in your home will leave a strong scent that will attract males for acres long after the active animals are removed.
Furthermore, territorial scents are always being tested so foraging flying squirrels will look to encounter their neighbors whether they're still in the attic or not. And if the squirrel living in your home is suddenly missing from the neighborhood activity, other flying squirrels will start to investigate the vacated territory either looking for a place to live or to find the lost squirrel. Either way, this type of activity will show you just how many routes of entry there are into your home and give you some idea as to how much work it will entail to do the exclusion job.
This is the exact reason why professional trappers command a premium  price when sealing homes from flying squirrel entry. Most companies don't really do a complete job; they tend to deal with the immediate problem or route of entry which they should be able to seal properly. However, the problem is generally much more complex requiring extensive work and repairs. Don't expect to get much done for $100.00 to $200.00. One company the author deals with charges an average of $1,000.00 to $1,200.00 per job but they do include a lifetime warranty. Needless to say, it's well worth every penny.
Now if you're not prepared to spend that kind of money for closing some holes but are willing to eliminate the scent and odor left by active flying squirrels, get some NNZ and spray the homes attic and exterior with a mixed solution to neutralize these scents. NNz will completely remove all animal scent including feces, urine, pheromones and more. Mix 8 oz per gallon of water and spray up to 800 sq/ft per gallon of mixed spray. NNz works instantly and treatments are permanent so as long as no new animals come into the area, there won't be any new odor.
NNz can be applied with any standard PUMP SPRAYER and for use around the homes exterior, a pump sprayer will usually work well. Just remember you need to get material on all surfaces used for it to work.
Since spraying attics with a liquid can pose a problem if it leaks down to the living space, renting a FOGGING MACHINE from us will enable you to do a much more thorough job without making a mess. This machine will pump out 10 oz of product per minute and will propel the mixture a good 20-25 feet out so you don't have to move around much to get the job done.
Rentals will effectively cost you $50.00 for two weeks; you actually pay for the machine initially but get a refund when its arrives back to our warehouse.
CONTACT US *
Give us a call if you need further help. Our toll free is 1-800-877-7290 and we're open Monday through Thursday, 8:00 AM to 7:00 PM. On Friday, 8:30 AM to 5:00 PM and on Saturday, 9:00 AM to 2:00 PM (Eastern Standard Time).
Email questions here:   http://www.bugspray.com/about-us/contact-us
Order online and get a 5% discount! We ship fast with 99.9% of all orders shipping within 1 business day!!


Learn more about BUGSPRAY.COM and why it's never been easier or safer to do your own pest control.


Please show your support for our business by purchasing the items we recommend from the links provided. Remember, this is the only way we can stay around to answer your questions and keep this valuable web site up and running. Thanks for your business!